A post from our student blog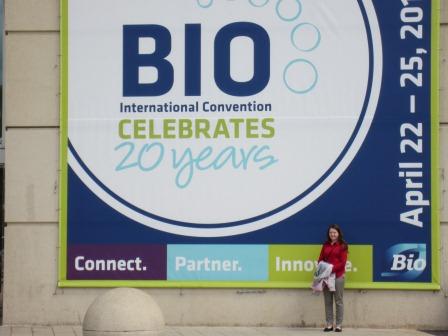 ger Sarah Goodman
I attended the BIO International Convention April 21-25, 2013 at McCormick Place in Chicago, Illinois. The University of Notre Dame is a BIO member company and a 2013 exhibitor. I volunteered for two days and received two day passes for the convention. During my volunteer sessions on Monday and Tuesday, I worked in the Sponsor Lounge where I was able to interact with members of large international biotech companies. I was able to participate in the convention on Wednesday and Thursday. It was a great opportunity to visit the exhibits and speak with professionals in the biotech and law fields.
Some of the exhibitors were representatives of law firms that practice in the field of intellectual property law. I spoke with patent attorneys and agents from many law firms including Thompson Coburn LLP, Barnes & Thornburg LLP, Frommer, Lawrence & Haug LLP, Foley Hoag LLP, and McDonnell Boehnen Hulbert & Berghoff LLP. The convention also featured major biotechnology companies. Participants included Astellas, Janssen Pharmaceutical Companies of Johnson & Johnson, AstraZeneca, Genentech, Merck, and GlaxoSmithKline. I really enjoyed meeting domestic and international professionals in my field.
Besides the individual exhibitors, there were separate pavilions for each country and some states of the US. Each country pavilion had details about the particular country and business information. During a reception on Tuesday, each pavilion contributed to the festivities. The Switzerland pavilion provided a chocolate fondue with fresh fruit and cookies. The Belgium pavilion provided fancy coffee served by a barista. My favorite pavilion was the France pavilion which provided cheese and wine to attendees and where French was spoken almost solely.
The BIO International Convention was a great opportunity both professionally and academically. Attendance significantly impacted the drafting of my thesis and my professional development. The BIO International Convention was an exciting event that provided a lot of valuable information and insight into intellectual property law, pharmaceutical development, and marketing strategies.