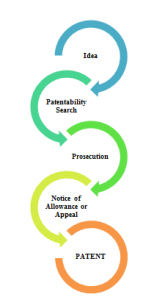 A post from our student blogger Megan
I get a lot of questions about how the patent process works. Because I think the patent process can seem a little daunting, I thought I'd give you a quick rundown of how it works from start to finish. Please note that this is just a general view of the process and how it works—each patent application is different and therefore the process is unique for each as well. In addition, while you may proceed pro se (without the help of a patent attorney or agent), it is highly recommended that you enlist the guidance of a patent practitioner when seeking patent protection.
Where do you begin when you want a patent? Well, first, you'll want to know that this is not an extremely fast process. So how long does it take to get a patent? In true lawyer fashion, I have to tell you that it just depends. If you have a complex underlying technology then it could take years. Some dates that you will want to remember are that your application will publish eighteen months from filing and if you file a placeholder application, you will need to replace this with a real application within twelve months. Ok, so you can kind of see where this is going… patent law is complicated so you've got to know your dates and prepare accordingly.
Let's swing back to the original question, though: where do you start when you want to get a patent. You need to figure out if your idea has already been acted on. In other words, you need to do a patentability search to determine if there are other patents, offers for sale, publications, patent applications, or anything else that has already discloses your idea. You will want to do this because if your idea is already within the public domain you will likely be prevented from receiving a patent. Remember, you cannot patent something that isn't original.
Once you've performed a patentability search you will want to draft a patent application. Your application will have to comply with various statutes. For instance, the concept that you reveal in your application will need to be new and non-obvious. You will have to describe how to make and use your technology so a person who works in your technology area will be able to reproduce it. Careful planning and drafting are a must at this stage in the game. It is essential that you understand how to draft an application if you want the process to proceed as smoothly as possible. Drafting a patent application is both an art and a science. Patent agents and attorneys are trained to specialize in this.
If you choose to submit your application to the United State Patent and Trademark Office (USPTO), you will enter a phase called "prosecution." Remember that this is patent prosecution, not a criminal prosecution—these two things are different. Patent prosecution involves sending your patent application to a person who reviews applications in a specified area of technology at the USPTO. You will likely encounter what are called "rejections" from your examiner. Don't stress, this is a common occurrence. Patent prosecution involves going back and forth with the examiner until you get the application drafted in a proper form that the examiner accepts.
If the examiner sends you a "notice of allowance," congratulations, you just snagged a patent on your inventive idea. If your examiner denies you at least two times through rejections, you have the option to appeal this decision. Appeal is an interesting court procedure that I won't delve into it in this blog, but know that it is an alternative if you are struggling to get a patent grant.
This was a quick look at the patent process. Please note that it is far more complicated in real life. But as the saying goes, it may not be easy but it will be worth it. So, happy patenting!