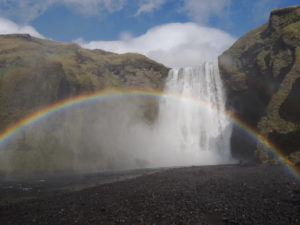 The stuff that memories are made of
In the Hamburg airport en route from Reykjavik to Milan, I've been scrolling through my iPhoto library, mulling over the amazing island I flew out of just a few short hours ago. Yesterday afternoon, I was breathing in chill October air while counting laps in one of Iceland's steaming hydrothermal pools. Now, Iceland is only a memory. As I sit surrounded by mobile humanity, I can't help but ask myself: what, of all the things I saw and did in Iceland, will stay in my mind and heart the longest? What have I learned from my visit to this small but spectacular island nation—and how has it changed me?
Iceland, an island of only 330,000 inhabitants, hosts 3.5 million visitors a year— and there's good reason why it's so high on many people's bucket lists. Located atop the Mid-Atlantic Ridge and the Iceland Hotspot, Iceland is a young, vibrant land where geology is anything but an historical science and where Viking heritage stands strong.
The Icelandic people both benefit and suffer from the island's active tectonics. On the one hand, life on the island is always a bit precarious. A volcanic eruption in the 1780s caused widespread famine, wiping out a quarter of the island's population and affecting climate acrossEurope and beyond. As recently as 2010, eruption of the Eyjafjallojökull volcano grounded many European flights for weeks. Earthquakes of magnitude 7.0 and higher have occurred with some frequency. On the other hand, modern Icelanders benefit from cheap geothermal energy and hydroelectric power that heats their homes, keeps their greenhouses warm year round and provides steaming swimming pools and hot tubs to ease the long, dark, dreary days of winter. Certainly, the geologic features provide some of the biggest draws for legions of tourists.
Iceland packs a world of geologic phenomena within its 40,000 square mile surface. I've seen steaming hot springs, spouting geysers, and bubbling mud pots before—most notably in Yellowstone National Park and the Taupo/Rotorua region of New Zealand. But, only in Iceland could I see THE GEYSIR after which all geysers are named. In Thingvellir National Park, I stood astride the Mid-Atlantic spreading center between the two massive North American and Eurasian tectonic plates, recalling my previous life as a geophysicist. Walking around the geothermal park Krysuvik, with its steaming hot springs colored by teeming microorganism, reminded me why I chose to study geology over 35 years ago. The mineralogy alone is near and dear to my heart—clays like kaolinite and montmorillonite, abundant iron oxides, and the vibrant brick red HgS mineral cinnabar. The last 30 years of my life have been devoted to understanding water-rock-microbe interactions. In Iceland, these interactions are laid out for all to see like few places on Earth.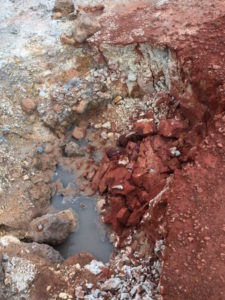 The glacial lagoon of Jökulsárlón was a highlight of my trip. The view of the Breioamerkurjökull glacier calving, spawning icebergs that float bobbing down the island's shortest river, will remain vividly etched in my mind for the rest of my life. Each iceberg has a unique geometry, texture, and color, but the ones that glistened in variousshades of blue were my favorites. As is often the case, I only discovered the most remarkable features by stopping to look carefully at the world around me. A slow walk through the maze of icebergs washed up along the black sand beach revealed that in places, the delicate edges of the ice don't just sparkle in the sun—they glowa bright neon blue. Breathtaking
.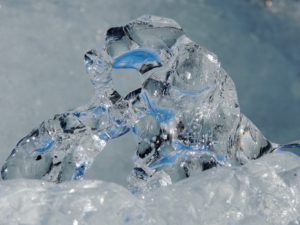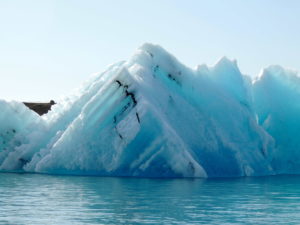 It's hard to choose whether the glacial lagoon or an early morning view of the Northern Lights was my most spectacular Icelandic experience. Privileged to stay at a small family-run hotel in a room facing a glacier-covered mountain, I was awoken at 2 AM by the ringing of a telephone. The nearly full moon had gone behind a cloud and the Aurora Borealis was unexpectedly in play. Drawing open the curtains, my first vision was of a brilliant green ring that flitted above the mountains like a troop of dancing fairies. After rushing up the stairs to the hotel rooftop, I witnessed the aurora darting about the sky in various shades of green, then white, then with a single jet of deep purple. As if that weren't enough, the display was punctuated by a shooting star that traced an arc across the night sky. The early morning experience canonly be described as a mystical, primeval reverie.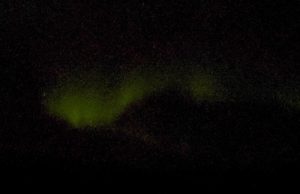 To my mind, Iceland will always be the land of waterfalls and rainbows. Imagine standing in front of the iconic Skógafoss waterfall watching as a full rainbow beaming in the mist grows to encompass your legs and feet. Gullfoss isn't as big as Niagara Falls, but to my mind, it's more magnificent in its multi-tiered, raging splendor. Hraunfossar appeared as a stunning series of small cascades tumbling through basaltic lava rocks. The sun came out just in time to illuminate streamlets weaving through the magnificent reds and yellows of autumn foliage and tumbling into the brilliant blue of the glacially fed river.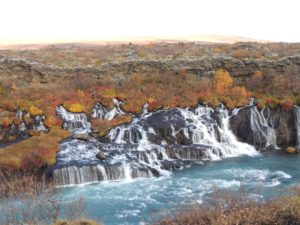 The island has abundant wildlife: Icelandic horses—not much bigger than ponies but as beautiful and rugged as the land where they are bred. Reindeer—their varied coats of grey, brown, white, and black sporting thousands of hollow and woolly hairs per square inch. Harbour seals—bobbing playfully amongst icebergs in the frigid glacial lagoon. Salmon—darting and leaping and turning the Öxará River into achurning maelstrom. Icelandic goats rearing up to crash heads and lock horns in a testosterone driven sparring match. Curve-horned sheep with dense wool prized by Icelandic knitters for intricately patterned sweaters. Enormous black ravens that harken back to the Icelandic settlement saga and seem both
wise and ominous.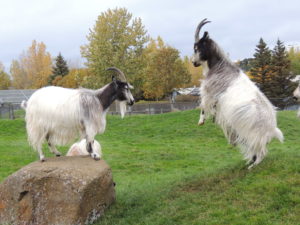 The Saga museum taught me that, according to DNA studies, modern Icelanders enjoy a mostly Scandinavian/Viking paternal lineage and a largely Irish maternal lineage. Considering that my mother's recent DNA test revealed mostly Irish with some Scandinavian ancestry, I feel some kinship with the many blue-eyedblondes and redheads. My own eyes are blue, and my hair has a reddish tinge. And, I have a wildstreak that craves adventure but cherishes hearth and home.
This trip to Iceland served to highlight the strength, dynamism, and fragility of our planet. It was a brilliant reminder that rain which darkens the sky brings green grass and rainbows. I was reminded of exactly why I became an environmental geologist. Some of the child-like wonder of a scientist was rekindled within my aging bones. All of these thoughts and experiences will remain with me for years to come.
Until now, I haven't mentioned by far and away the best and most important part of my Iceland experience. My travels were in the company of Jeanna, my dear friend from college. The two of us traveled to visit April— my college roommate— who made Iceland her home over 20 years ago.
These two friends are amazing, strong and accomplished women. As a student, Jeanna impressed me as even-tempered, good-natured, and well grounded. The thousands of women who relied on Dr. Jeanna Piper to guide them through serious problem pregnancies could not have been better served. After years of practicing and teaching medicine, she has gone on to serve the world's HIV community—and is a powerful voice for the difference between expectations, prejudices, and reality. This modest SouthernBaptist lives in a world where colleagues bring one another souvenir walking willies and vulvas to lighten a deadly serious vocation. She remains an even pickier eater than I am (and that's saying a lot).
April—the girl whose white jeans I accidentally dyed green. Who titrated her shoe in chemistry lab. Who put up with my ultra studiousness, arrogance, and stress-fests. Who once thought soda in a cake recipe meant adding a tablespoon of coca cola but who has devoted herself to cooking and cleaning and praying for andloving 6 wonderful children—3 sons and 3 daughters. The best roommate I could ever possibly have asked for. An all American girl who moved to Iceland and who graces her adopted home with eyes that sparkle and a warm, endearing heart. Despite being a devoted wife and mother of 6, April remains the same bright, energetic, beautiful girl I met when I first walked into our dorm room nearly 40 years ago.
The trip was all the sweeter for: Jeanna patiently enduring my endless geologic monologues…. April explaining that the accent is always on the first syllable of Icelandic words… Jeanna talking me into a duck boat ride that threaded its way past glistening icebergs and wasn't nearly as cold as anticipated…. The three of us sharing a delicious Mexican meal at the restaurant where April's son is head chef and enjoying thecompany of our fellow classmate, April's husband Mike…. Pouring my heart out over motherly worries knowing that I would not be judged but simply supported…. Realizing that while we're all growing older, we still have so much in common…. Treasuring the chance to explore with old friends a magical land of elven gardens and troll figurines.
Spending time with these two friends from college in one of the most beautiful and interesting places on Earth reminds meof just how incredibly blessed I am. I have done nothing to deserve such an amazing life. The worldis full of much harder working, kinder, more generous, more devout, and far better people than I. It makes me think that perhaps, as Maria sang in The Sound of Music: "Somewhere in my youth or childhood, I must have done something good".
In any case, I need to strive to live up to the standards set by my beautiful, intelligent, accomplished, and much beloved friends.
Thank you, Iceland, for giving me so many wonderful memories, for reminding me of past joys, and for renewing my faith in the future.
With such a beautiful planet and such enduring friendships, I can only say that life is good and I am blessed beyond belief.