Intrepid travel Morocco Women's Expedition October 20-28, 2018
Part 1: Meet the Expedition Travelers, Guides, Cooks, and Staff
Our Intrepid expedition started out in Marrakech, where we met the evening of October 20 at the lovely Marrakech Mogador Opera Hotel, near the train and bus stations.  I liked this part of Marrakech very much. Although it wasn't as exotic as staying at a Riad in the Medina, the area was beautiful, quiet and very safe, with 'tourist police' at every corner.  It felt a lot like Palo Alto CA, with a high end shopping mall, the state theater, and beautiful wide roads with lovely parks. The camels in the parks were a bit different, though…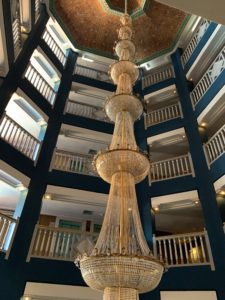 Looking up from the lobby of the Mogador Opera Hotel Marrakesh
Altogether, there were 12 women on the expedition (myself included), in addition to our guides, cooks, and other staff members who took care of us along the way.
We met our fabulous Berber Moroccan tour guide, Hafida Hdoubane, who was the first female mountain guide ever certified by the Kingdom of Morocco. Hafida is the single mother of a teenage son, and she owns a business as a certified guide for trekking, white-water rafting, skiing, mountain climbing, etc. in Morocco and France.  The things I will remember most about Hafida are: her warm, welcoming personality, her infectious optimism, and her magnificent joie de vive. Hafida came from a very difficult, under-privileged background and is one of five (or six?) daughters, all of whom are stunning and have accomplished quite unique and amazing things all around the world.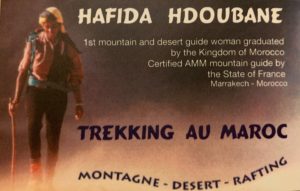 Hafida Hdoubane. Berber Mountain Guide extraordinaire.
My fellow female travelers.
What sort of woman goes on an all-female trekking expedition in the Atlas Mountains of Morocco?  We ranged in age from early 20s to nearly 70 years old and came from vastly different corners of the world.  Some had spent a life-time hiking; for others, this was the first hiking adventure. Everyone, though, had an adventurous spirit.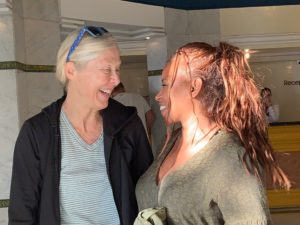 Hafida and Linda getting to know each other in the lobby of the Mogador Opera Hotel
Linda and Joellen, friends from the Portland OR area
Linda is retired from the high tech industry in Portland, Oregon.  Tall and straight with long blonde hair, Linda has a wry sense of humor and is an excellent dancer. She is part of a walking group in the Portland area (taking part in the Portland and coast walk relay, for example).
Linda's good friend Joellen is owner of the Horse Brass Pub, a traditional British pub that has been a Portland institution since 1976.  At 69, Joellen was the oldest member of our group. She exuded the quiet confidence of a successful business owner along with a refreshing humility.  She has been friends with Linda for decades.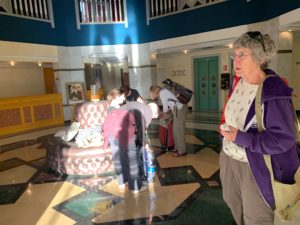 Joellen in the lobby of the Mogador Opera Hotel in Marrakesh.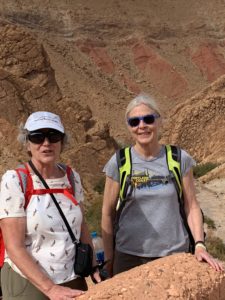 Joellen and Linda together on the last day of our trek.
Heather Eaglesonfrom Kingston Ontario is taking a 'gap year' (actually, 18 months or more) from her career as a nurse/public health expert to explore the world sometimes solo and sometimes with her civil engineer husband and teenage son. She has been on all sorts of amazing adventures in far away places like India and Nepal, and has volunteered extensively.  Heather was the definition of 'be prepared' with her well-stocked medical kit, which benefitted many of us directly. She has inspired me to always bring a small roll of duct tape on future hikes/adventures.   You can fix almost anything with a roll of duct tape.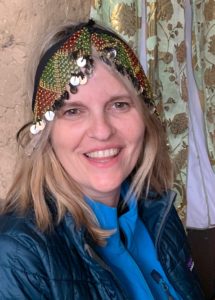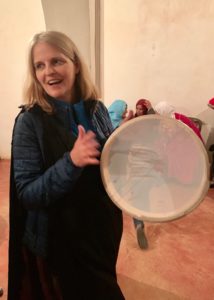 Heather playing a drum and wearing a Berber headdress during our night in Agouti Village
Minoti is an innovative, highly organized, and well respected manager in the pharmaceuticals industry in New Jersey. She comes from India originally and is married with a son and a daughter.  When she returns from Morocco, she will be interviewed at her company for a film clip about her group's work on flu vaccines and successful marketing and advertisement at Wallmart, etc.  Minoti would be a great motivational speaker for young women in science, engineering, and business.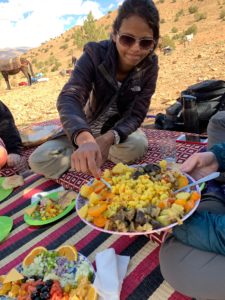 Minoti enjoying a vegetarian lunch during our trek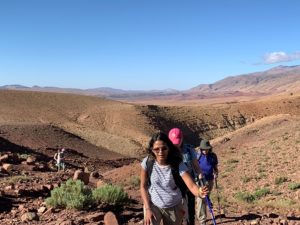 Minot in trekking mode.
Minoti on the final day's trek back to Bou Tharar
Lindsay is a nursing student in Toronto who managed to squeeze in a trip to Morocco before taking some of her exams and embarking on her final difficult last year of studies. Quiet and sweet, Lindsay is setting a great example of keeping one's sense of adventure even when bogged down with hard work and pending exams.  How many students would be brave enough to spend study week traveling thousands of miles to go on a women's expedition trekking in the Atlas Mountains? Remarkable.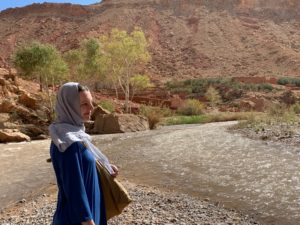 Lindsay looking very serene and picturesque between stream crossings. Lindsay decided to hike with a Berber style scarf, which is very practical in the dry, hot, windy environment.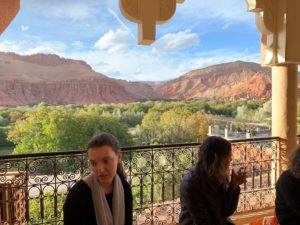 Lindsay at tea in our gite in Bou Tharar.
Katherine "Kat" is taking a break from work in Sydney Australia to travel the world, sometimes with her boyfriend and sometimes solo. Kat is the most beautiful young woman, both inside and out. I was privileged to share a double room with her at the start and end of our trek, in a gite in Bou Tharar.  We stayed up late talking about life—past, present, and future plans and dreams. Everyone loved Kat, from fellow travelers to our guides to little children we met along the way.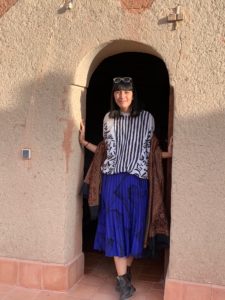 Kat in the doorway of our room at the gite in Bou Tharar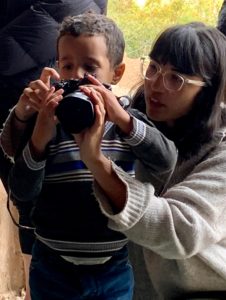 Kat showing a young boy how to use her camera, in Agouti Village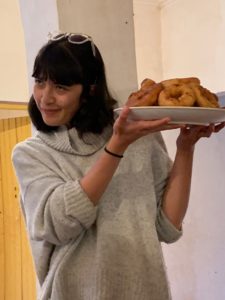 Kat serving up some of the delicious homemade doughnuts freshly made by Zara (see below)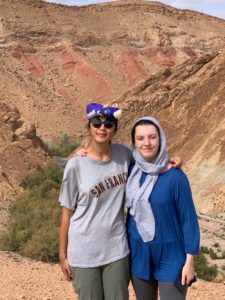 Kat and Lindsey looking very stylish along the trail.
 Rhonda and Vicki, Canadian friends
Rhonda and Vickiare friends from Calgary and Penticton Canada (respectively).  We talked a lot about tar sands oil and other Canadian hot issues.  Rhonda showed me some great mini stuff sacks that can be used to compress as many as 8 shirts into a tiny space and she was one of our more exuberant dancers.  Vicki was very kind and polite–quintessentially Canadian. As another (retired) nurse, she helped make us all feel very safe while trekking.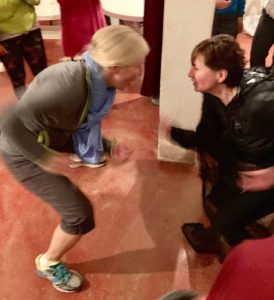 Rhonda getting seriously into dancing (with Linda)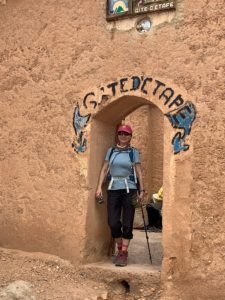 Rhonda in the doorway of our Gite in Issoumar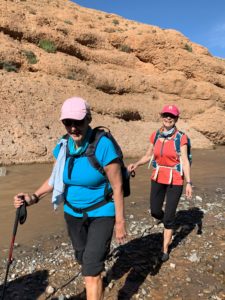 Vicki and Rhonda on our stream wading/crossing day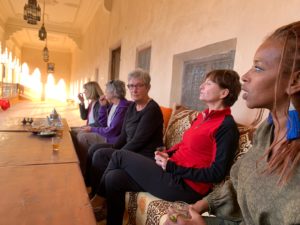 Vicki (center) listening intently to Fatidah's telling us her life story.
Rhonda learning to weave a Berber carpet
Ellen (CA) and Fran (MD), retired US State Dept (Co)workers
It was amazing to have in our midst two retired women from the US State Department, who have traveled extensively and know multiple languages.  Ellen worked at least for a while for Francisca. Ellen sadly lost her teenage son to a police shooting in Taiwan years ago and currently volunteers in support of organ donations around the world.  Fran and her husband currently live in Bethesda, and (if I remember correctly) have two grown sons.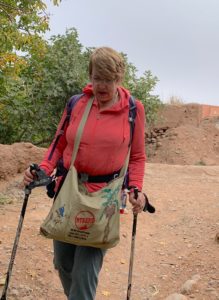 Ellen modeling one of our Intrepid bags (she was not into traveling light on the trail).
Ellen navigating a difficult stretch of trail, carefully watched over by her guardian angel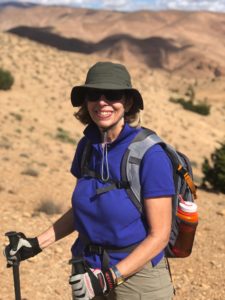 Fran enjoying the amazing scenery en route.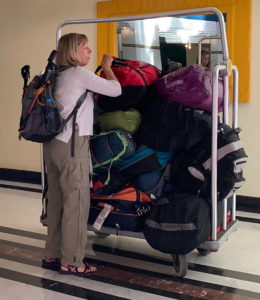 Fran packing up before our morning drive across the Atlas Mountains to the start of our trek.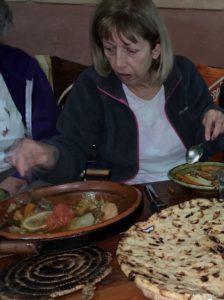 Fran sampling tagine at dinner one night.
Alicia (London)
Alicia works as a producer for a news show for the BBC. But little did we know—until she fessed up near the end of the trek—that she's also an accomplished travel journalist who actually won an award for best young travel journalist, last year.  Oh boy, maybe we would have behaved ourselves a little better if we'd known there was a spy amongst us. 😉 She tells us she does plan to write about our expedition.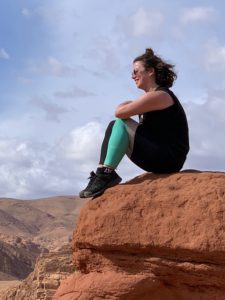 Alicia being brave on the final day's trek back to Bou Tharar.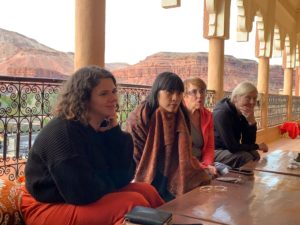 Alicia (far left) with Kat, Ellen, and Linda in our Gite at Bou Tharar
Patricia Maurice (yours truly) is a professor emerita in Civil and Environmental Engineering and Earth Sciences at the University of Notre Dame. She variously amused or tortured her fellow travelers with mini lessons about the local geology and joined in on conversations about our loved ones back home… in my case, husband and 'children.'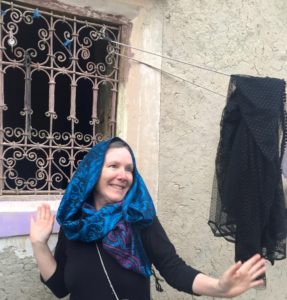 Patricia hamming it up one evening.. the black lace on the clothesline behind her is typically worn over caftans by Berber women, even in the field (and trekking).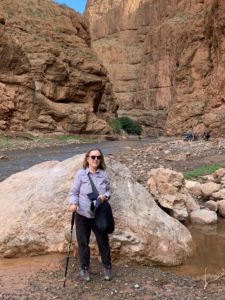 Patricia lagging behind to look at the geology during our first day hiking through a stunning canyon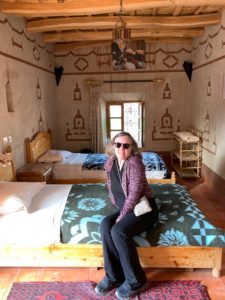 Patricia in the double room she shared with Kat in Bou Tharar
The Gang's all here!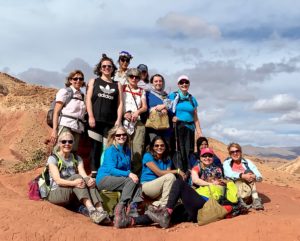 The 12 women trekkers with Beia and Fatidah taking a break on our final long day of hiking.
Our fabulous Berber cooks and guides from the village of Bou Tharar:
Beia— If you ever want to meet a truly intrepid woman, it's our local guide, Beia (dubbed 'Mama B' by Ellen). Beia is a single mother whose son Yousef guided the mules and helped oversee operations in the kitchen, etc. She is the grandmother of 3 lovely little children and the sister of the chieftain of the village of Bou Tharar. We could not have done the expedition without Beia as she guided us along goat paths and down flowing river beds, through tiny villages and corn fields and places where there was no apparent path at all.  Beia made sure that each and every one of us was safe, holding a hand across a difficult traverse, and constantly racing from the front of the trail (to show Fatidah the best route) to the back (to catch any stragglers). She even killed a giant scorpion along the way.  Beia is a very strong woman, both physically and mentally, and we all felt extremely privileged to get to know her. Beia's chin is marked by a traditional Berber tattoo and her hands are stained red by years of hard work and henna.  She served as an ambassador of the Moroccan Berbers to 12 'western' women.  We all love you, 'mama B.'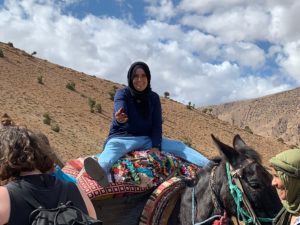 Beia posing atop a mule as we all took photos on the last day (she walked the whole way—no riding).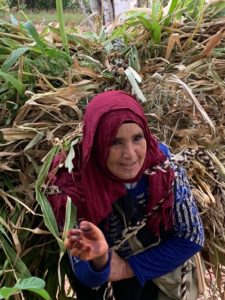 Beia showing us how local women carry heavy loads of corn at harvest time.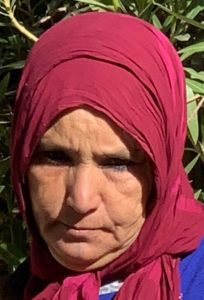 Beia pondering the route
Zara–learned how to ride and drive a mule just so she could go on this trip with us.  She made the most wonderful doughnuts, taught us how to cook couscous the slow, proper way, and opened up over the course of the expedition from shy, quiet, and reserved to gracing us with her beautiful, beaming smile.  Zara is a beautiful person who works incredibly hard but is always good natured, sweet, and kind.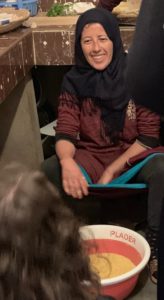 Zara teaching us how to cook couscous properly
Zara leading mule, with Basu and Mohammed following behind.
Mohammed and Basu  –'tagine and couscous'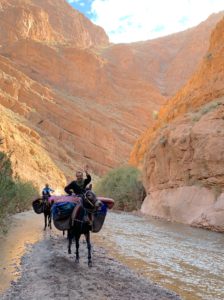 Mohammed and Basu are both cooks who, along with Zara, fed us the most wonderful homemade meals and took great care of us along the way.  Mohammed was also particularly fond of singing, dancing, and drum playing. Both were a little standoffish at first, but as our trek wore and they got to know us, they really seemed to enjoy the whole experience.  Every time they passed by on their mules, they'd call out 'tagine and couscous' and gave themselves those knicknames.  Mohammed seemed to be a bit intrigued by my blue eyes; but, many Moroccans (especially the children) were interested in my eyes.  Both men were extremely kind and respectful of everyone in our group. Really nice people!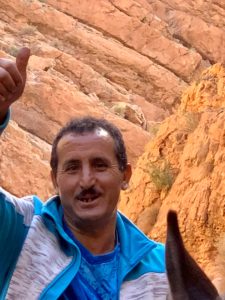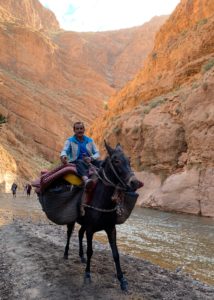 Mohammed riding a mule laden with our gear through the steep canyon we hiked through our first day of trekking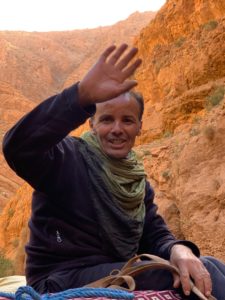 Basu always seemed to get a kick out of us taking his photo
Yousef—Beia's only son Yousef , always looked so dashing in his turban and robes.  He has 3 young children and a stunning young wife.  Yousef seemed to take charge of most of the logistics not directly related to the hike.  Beia is justly very proud of him and of her adorable grand-children.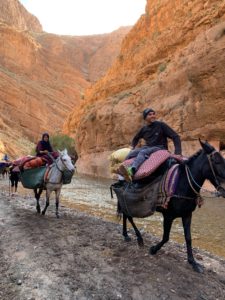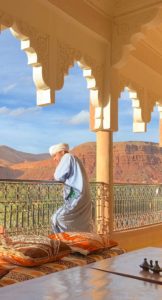 Youssef, Beia's son and the nephew of the village chieftain
More to come…..
Our route: Drive from/back to Marrakech and approximately 35 miles of trekking over 4 days in the Atlas Mountains.