And so on to our next stop – to Kentucky, to Berea College. Well, not quite.
First we were treated to a weekend stop in Chicago, where the time was our own until Monday. After the Friday night show at Notre Dame, we piled up our suitcases (into a stretch limo, obviously – we're getting used to this) and headed for our downtown Chicago hotel. The view from the 14th floor (or 16th if you're Sarah – she has contacts everywhere) was fabulous, looking down over the river and a huge neon-assisted sign of "Chicago," in case you were still in any doubt.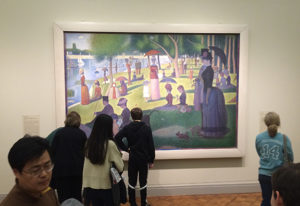 While there, Sarah and I delighted in surely one of the best museums in the world, the Art Institute of Chicago. The breadth of the collection is quite staggering, particularly from the Impressionists onwards; I felt drowned in so much craft and imagination. While I was taking in Seurat's "Sunday Afternoon on the Island of La Grande Jatte," a young American student was slowly formulating an opinion. Eventually he turned away, with the words, "it just seems like a lot of dots to me." Hard to argue with that.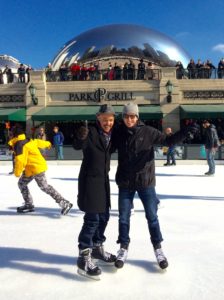 Will and I went ice skating in the shadows of the giant Anish Kapoor silver bean; we watched the greatest Super Bowl comeback in history (still wanted the Falcons to win); we sipped Manhattans and Long Island Ice Teas high up in the Hancock Tower, with a twilit view of this metropolis, and we walked along the Navy Pier and took in the ludicrous expanse of Lake Michigan. What a treat.
But time now for Berea. A very big change from Chicago – and from Notre Dame. A much smaller place (about 1,600 students here), Berea College is a liberal arts college in Madison County, Kentucky. No, I didn't see any bridges. All students here have to take a job while they study, and you see them in the cafes and shops, and even working the looms and potter's wheels in the craft shop. In return, their tuition is paid for. Incoming students "have financial need," and it must be a great relief to get through four years of college without a huge debt pushing down on their shoulders.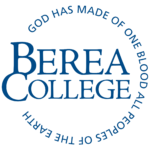 "Our generous TUITION PROMISE SCHOLARSHIP makes it possible for you to graduate debt-free…We sometimes call Berea 'the best education money can't buy.'"
It has a quiet charm to the place, this Daniel Boone pioneer country, and three times I went hiking up the Indian Fort Mountain to take in the view of the Appalachians in the distance. In fact, the first time, I was on my own and managed to get lost. I tried retracing my steps but to no avail, and I was left wondering which route down took me back to the car. Luckily, I came across a woman walking her dog. "Sorry to bother you," I said, "but can you tell me which way to go to get down to the parking area?". "Furshra" she replied. "I beg your pardon?". "Furshra". I felt like Hugh Grant, the Englishman who came up a hill and couldn't get down the mountain – it was as much as I could do to stop myself from fluttering my eyelids and quoting David Cassidy. "Take the Furshra and go straight down", the woman continued. "Oh, great, first right, yes, of course…thank you." I stumbled away as fast as affected nonchalance would allow.
It's always a slightly strange experience, having a five-day gap before returning to the stage. The play seems familiar and yet oddly distant, and we have to recalibrate and make sure we are still being faithful to the story every time we return to it, while also accommodating a different playing space – Berea's Jelkyl Theater is a wide but intimate space, seating about 250 and it gave us the chance to really use the corners, play 'upstage' and engage with the wider space.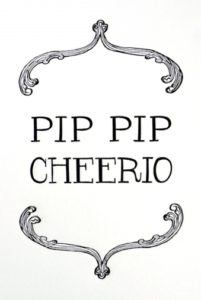 And, in the meantime, we have classes to give. This week, the students in one class reimagined the opening stand-off between the two opposing factions not as Montagues and Capulets, but as the Empire (Star Wars) against the Kardashians. They improvised away, with threats of bling and light sabres and various hair flicks. Good fun. Of course, the parting shot from one of the students was still, in a slight Southern lilt, "oh go on, please can you say pip, pip, cheerio for me? I just love that accent"…
We've been staying in the historic Boone Tavern. According to YouTube, the hotel is haunted. Well, I don't know if it was ghosts that took me from room 232 (TV not working) to room 217 (window wouldn't open) to room 312, but the other members of the company kindly let me know that one of the rooms is haunted by a boy called Timmy, whose cackle of laughter has been heard by various visitors. Yes, you've guessed it, it's room 312. And, sure enough, the next night I was woken by a whispering wailing sound. Eventually I had to turn the lights on to investigate, only to find that the window had slipped, leaving only a sliver of air that whistled through the tiny crack. Dear dear Timmy.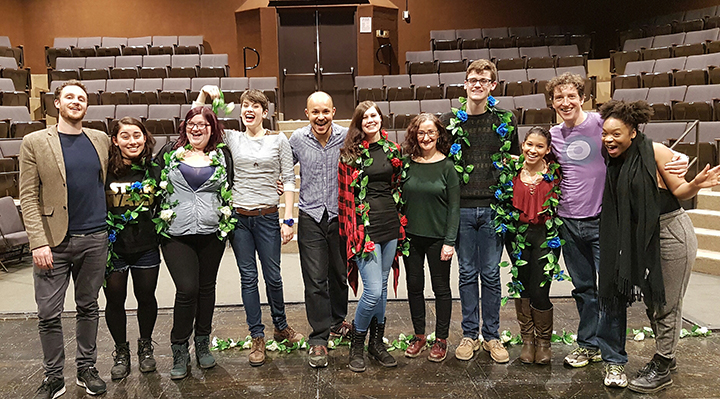 Other than that, the hospitality here has been wonderful. Shan Ayers' care for us was way beyond duty, and Tia Davis and family today treated three of us to a wonderful American brunch – thank you, Hassan, for the delicious fare on offer, and to you all for your kind hospitality. It was a treat to be out of a hotel and in such a warm domestic environment …and away from Timmy, obviously.
Next stop Valparaiso, University…in Indiana, not Chile. Time to pack, to try and remember phone charger etc (this time) and all set for a 9.30 start. So long Timmy – and pip pip cheerio, obviously.