Google Updates – OIT Lunch & Learn (online session)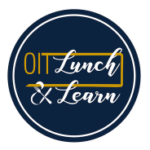 Google is changing things up again! Learn about the latest features Google has added to its G Suite products – multiple signature templates in Gmail, dashboard and drive shortcuts, the redesigned file and the folder sharing interface in Google Drive.
Register at endeavor.nd.edu or email training@nd.edu.
Tuesday, June 23; noon to 1 p.m.
Zoom Updates – Meeting Passwords
In anticipation of Zoom requiring meeting passwords, Zoom meetings will have passwords on by default starting June 13, 2020.
Key details about Zoom meeting passwords:
Only new meetings will be affected
Meeting passwords will be automatically added to the invitation when you schedule the meeting and embedded securely in the URL of the meeting
Meeting passwords will, by default, be a minimum of six numbers
If your meeting participants click on the meeting URL in the invitation or in the meeting list in their Zoom client, they will be able to join without entering a password
If your meeting participants join by dialing in with a telephone, by clicking the Join button on their client, or by going to join.zoom.us, then they will have to enter the meeting password
For more details, see Zoom's knowledge article on meeting passwords
To see an example of how required passwords will look, see the Zoom Passwords and Scheduling a Meeting article.