On Thursday, December 16th at noon – Please join THRIVE! for Networking: Basics and Beyond, a 30 min workshop on the fundamentals of networking. Whether or not you are comfortable with the concept of networking, you'll learn the basics of and best practices for networking, with Associate Director for Mendoza MBA programs, Martin Johnson. Martin will be joined by Tahra Taylor, Associate Director of Graduate Business Career Services, and Lindsey McIntyre, Associate Director of Graduate Business Career Services (see bios below).
Please click this zoom link to register. https://notredame.zoom.us/meeting/register/tJYtceyuqjIoGt3EUOlZovsZbauapuYCYvFJ.

Martin C. Johnson is an Associate Director of Graduate Business Career Development and a Career Coach. He joined Notre Dame in 2020. He is responsible for coaching MBA students who are seeking careers in the fields of Corporate Finance and Investment Banking. He also is an advisor to the Finance & Investment Club. Prior to joining Notre Dame, Martin was an Investment Advisor with Morgan Stanley, an Agency Owner with Allstate Insurance, Regional Vice President with US Allianz Investor Services, and Vice President of Sales at Lakeshore Learning Materials. Martin earned a Bachelor of Arts in Communication from University of The Pacific, a Master Business Administration from California State University East Bay, and a Juris Doctor from John F. Kennedy College of Law. His certifications include RMA – Retirement Management Analyst (RMA®, Enrolled Agent, member CA State Bar.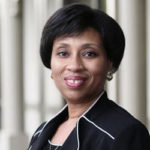 Tahra Taylor is an Associate Director of Graduate Business Career Services, where she meets with the Mendoza College of Business MBA students one-on-one and in groups to explore, pursue, and obtain their individualized career goals. She also liaises with student clubs in support of student learning opportunities. She has a passion for helping students create strategies for success in the job search process. Prior to joining the University of Notre Dame, Tahra was the Human Resources Director for the National Diversity Council. She built her vast human resources experience with The Dallas Morning News and Fortune 500 companies, including AmerisourceBergen Corporation, Texaco, Inc., and Entergy Services, Inc.

Lindsey McIntyre is Associate Director for Graduate Business Career Development. She joined Mendoza in 2019. She serves as the Career Coach for Master of Science in Business Analytics (MSBA) students in both the on-campus Residential and Chicago programs. In this role, she provides strategic guidance and tactical tools and resources to help each student create a customized job search strategy that supports long-term career success. McIntyre began her career at Notre Dame in 2007, and has served in various research and analysis roles in the Office of Budget & Financial Planning, the College of Engineering, and the Offices of Corporate & Foundation Relations.