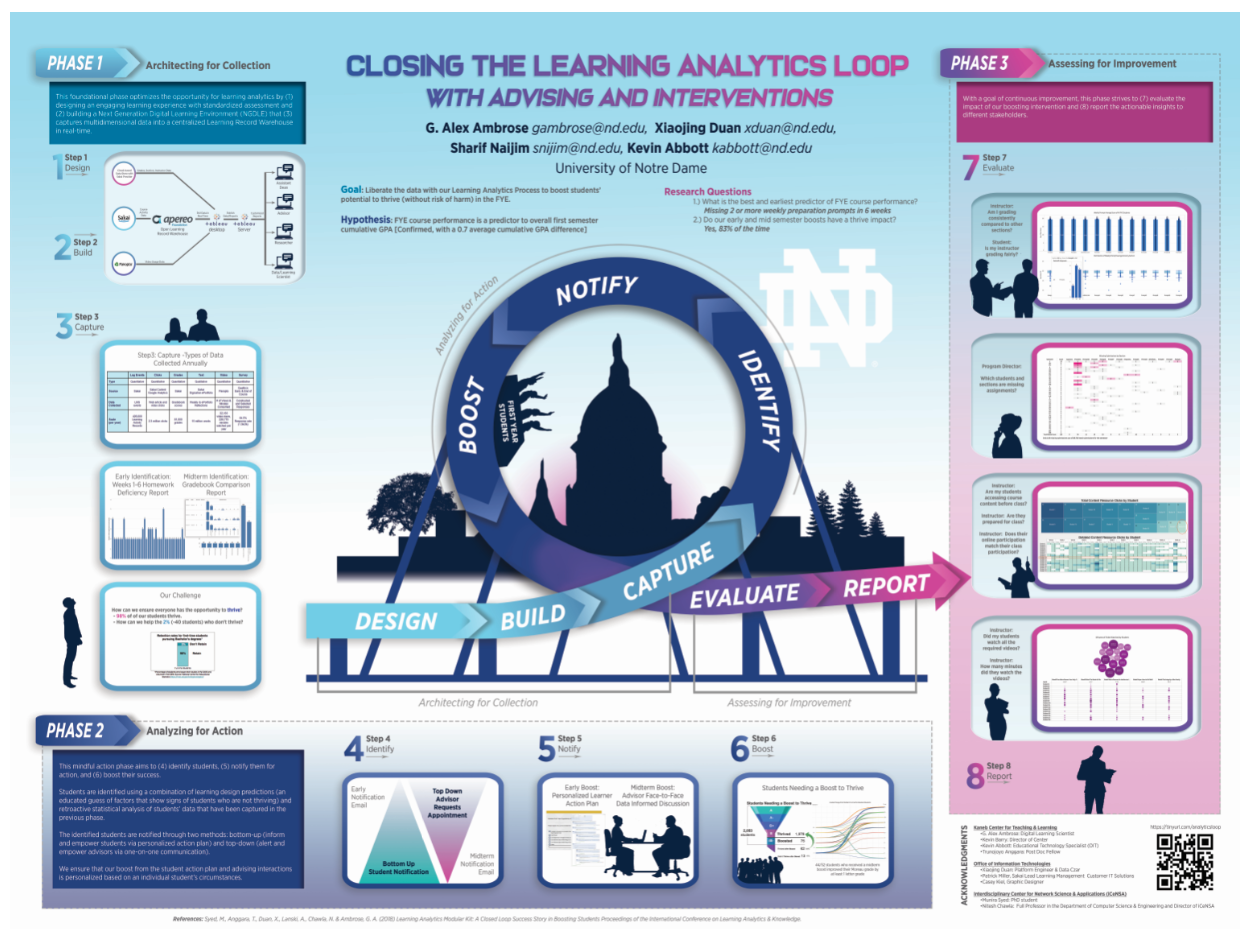 Click here to download and zoom into the infographic poster presentation
Citation:
Ambrose, G. Alex, Duan, Xiaojing, Naijim, Sharif, Abbott, Kevin (2019) "Closing the Learning Analytics Loop with Advising & Interventions" ELI Conference Infographic Poster Presentation, Anaheim, CA
Description:
According to U.S. News & World Report, Notre Dame ranks in the top 10 of national universities for freshman retention with a 98% first to second-year retention rate. You might be wondering why we would be concerned with our students thriving since 98% of our freshman class succeeds. At Notre Dame, our goal is for all our freshmen students to thrive. Our challenge is to identify and support those struggling 2% early enough to take action.
Our First Year Experience (FYE) course was designed to meet that challenge and help all of our 2,050 freshman students thrive. The learning design was focused on creating an active, integrative student-centered learning with a comprehensive mastery that encouraged critical, independent thinking. The learning environment infrastructure was architected to follow the NGDLE interoperability, integration, analytics, advising, and learning assessment dimensions so multidimensional student data can be collected seamlessly to enable comprehensive data analysis and improvement assessment (Ambrose, Abbott, & Lanski, 2017).
This three-year project pursued the following research questions: (1) How do we identify and boost non-thriving students without harm or negative labels? (2) What is the impact of our early and mid-semester analytics-based boost? and, (3) If the FYE is a common course for all students could it serve as an early indicator for overall first-semester performance?
Our poster will describe how we built an innovative and transparent learning environment, embedded data collection in course design, captured data from multiple sources into the learning records warehouse (Miller & Duan, 2018), used predictive analytics to move 83% of students identified as underperforming to thriving, answered key questions through visualization reports, and identified what is the best and earliest predictor of student success.
Related:
Syed, M., Anggara, T., Duan, X., Lanski, A., Chawla, N. & Ambrose, G. A. (2018) Learning Analytics Modular Kit: A Closed Loop Success Story in Boosting Students Proceedings of the International Conference on Learning Analytics & Knowledge
Video Story & Award Presentation Slides: Kaneb, OIT, and FYS Team win 2018 Apereo Teaching And Learning Award (ATLAS)