It is no secret that large data analysis is fast becoming a necessary skill in all scientific fields, and that programming knowledge is required to carry out these analyses. However, we have identified that many science majors do not obtain training in coding within their standard curriculum, and thus perceive that these data analysis skills are out of their reach. In the Whelan Lab, we believe that it is easy and effective to include programming assignments in standard scientific undergraduate classes, which expose students to programming in the context of their familiar disciplines and allow them see how useful code can be in answering relevant scientific questions. With this inspiration, we created a web-based assignment targeted towards analytical chemistry students that walks them through increasingly involved tasks in R, a common programming language, culminating in the students writing their own code to solve interesting chemistry questions. The assignment website can be accessed here: https://weaversd.github.io/R_with_peptides_Project/.
In a pilot study, we found that the assignment was efficient, effective, and enjoyable, and that novice coders said that they planned to use R going forward in their own projects. See the ePoster below for the preliminary findings.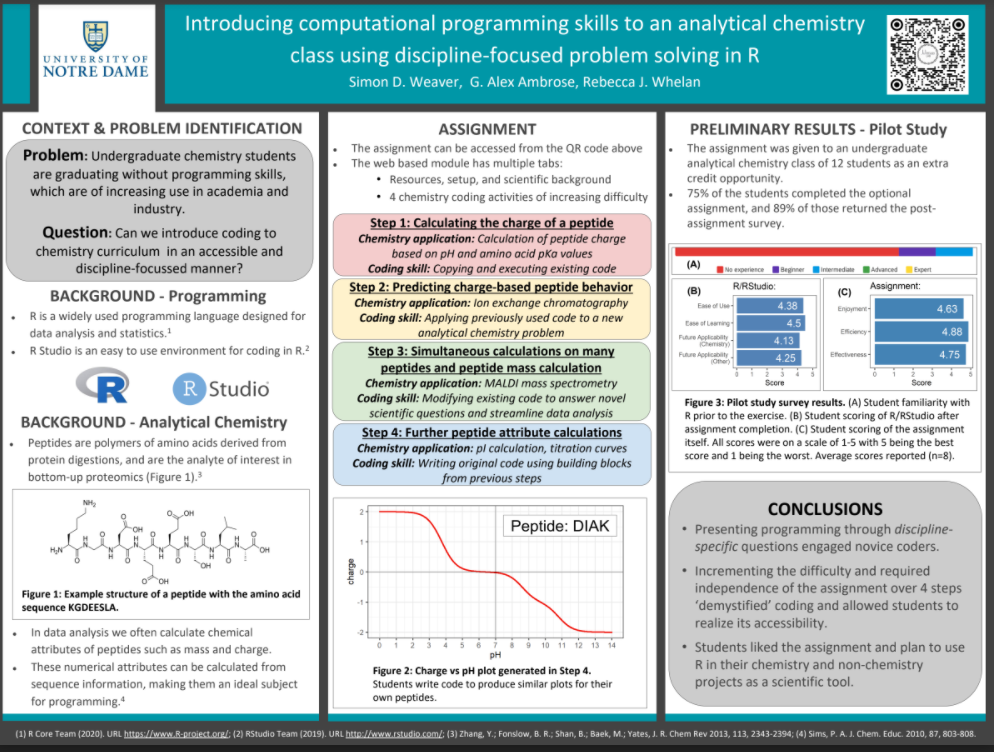 Click here to zoom into a larger view of the poster and access the hyperlinks on the ePoster
Cite this poster:
Weaver, Simon, Whelan, Rebecca (2021) "Introducing computational programing skills to an analytical chemistry class using discipline-focused problem solving in R" Midwestern Universities Analytical Chemistry Conference.
About the Researchers:
Simon Weaver is a graduate student studying genomics and proteomics in the Integrated Biomedical Sciences (IBMS) program at Notre Dame. His research focuses on improving the early detection of ovarian cancer.
Rebecca Whelan is an Associate Professor of Chemistry and Biochemistry. She has been teaching analytical chemistry in various forms for 15 years. Research efforts in the Whelan lab involve applying tools from bioanalytical chemistry–including microscale separations, affinity interactions, and mass spectrometry–to human health.
Note: The ND Learning Research Team assisted with the IRB application, research/evaluation design, assignment design consultation, survey construction, analysis and poster presentation. If you are interested in contributing to the scholarship of teaching and learning (SoTL) please contact us.