Sometimes, when I learn a new lesson for the first time, it feels like I'll never remember it. But because I'm speaking all day in Irish, I have to use what I learn, and I've found some lessons coming in handy over and over again.
One topic that has come up a few times is the use of abbreviations in Irish text messaging. It seemed strange to me at first, but I suppose it's logical that Irish speakers would find text abbreviations useful just as much as English speakers would. Some of these are common—I've received an email containing "GRMA" (short for Go raibh maith agat, which translates as "thank you") from a teacher before. Others seem to be used only among younger people, or barely at all. My favorite example of this category of texting slang is "NASAA," which a young Irish speaker told me means "Níl ach saol amháin agat"—the equivalent of You Only Live Once.
Although my teacher this week didn't know exactly what NASAA meant when I first asked her, she made a pretty good guess. She also took some time at the end of class one afternoon to teach us other, more common text abbreviations, including how to say in shorthand "Okay," "No problem," and "Where are you?" In fact, all of my teachers have been pretty knowledgeable about putting the language to use online. They have to be, because a lot of people learn their Irish on the internet. Many of the adults taking classes here live in countries or in regions where no Irish classes are offered, and have learned most of their Irish through programs like Duolingo. From what I've seen, the result of that has been that those invested in teaching the language have worked hard to make online resources for learning the language better and more accessible. Since the language is widely used online, it makes sense to have a set of abbreviations for messaging.
I think that my newfound knowledge of Irish text messaging reflects the way that my vocabulary has been getting richer in general since I've been here. Before I came here, one of the biggest problems I ran into when trying to communicate in Irish was that even if I knew how a sentence should be constructed grammatically, I just didn't have the words to say what I wanted to say. At Oideas Gael, the teachers encourage us to speak and teach us vocabulary for a variety of situations. So far, I've practiced renting an apartment, describing a job, and, yes, text messaging, to name a few.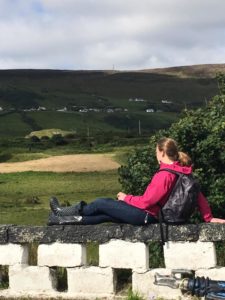 There was no picture with my last post due to technical difficulties with my phone. Luckily, a friend got this shot of me looking at the Glenn. Wellies are a must! But we usually get a few hours of sun a day. Just of screen: The famous Glenn Cholm Cille burger and chips van.