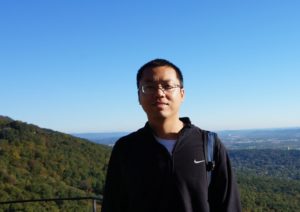 Name: Yin Liu
E-mail: yliu14@nd.edu
Language: Germany
Location of Study: Munich, Germany
Program of Study: Carl Duisberg Training Center
Sponsors: Center for the Study of Languages and Cultures
Blog URL: http://sites.nd.edu/sla2016/author/yliu14/

A brief personal bio:
I am Yin Liu and I am a fourth-year PhD candidate in the History department. My period of interest is the Early Middle Ages, especially the Carolingian era. I have particular interest in the intellectual and religious life, and its relationship with the political culture in the medieval worlds. The doctoral dissertation that I am undertaking is about the reception of the biblical book Deuteronomy in the Carolingian era.
Why this summer language abroad opportunity is important to me:
The SLA Grant is essential not only to my long-term academic career goals but also to my present research. German scholarship is particularly strong in my academic field. To be able to read German academic works quickly and accurately and to communicate with German colleagues effectively is of great importance for any early medievalist. For my dissertation project, one third of essential secondary literature that I need to refer to is in German. There are many scholars of Carolingian history in Germany and Austria with whom I want to discuss my research during my dissertation writing. I also plan to apply for a year-long academic visit to a German University for the next academic year. For all these reasons, to improve my German next summer by taking an intensive language course will be a logical and very beneficial step for me.
What I hope to achieve as a result of this summer study abroad experience:
I am going to take an eight-week intensive German course, with speaking, listening, reading, and writing components. In each week, I will take 18-hour group courses and 4.5-hour one-to-one language practice with a tutor. I hope that after immersing myself in a German-speaking environment for almost two months, I can communicate with academic colleagues in German with ease. I also expect to be able to read German more fluently after the grant. Finally, I hope that I can build the confidence to use German to deal with everyday life, as a preparatory step for my application for a year-long academic visit to a Germany university next year.
My specific learning goals for language and intercultural learning this summer:
At the end of the summer, I will be able to undertake oral communication in German with native speakers on academic issues with ease.
At the end of the summer, I will be able to read German scholarship with great fluency.
At the end of the summer, I will be able to exchange emails in German on academic issues with German-speaking scholars.
My plan for maximizing my international language learning experience:
To maximize my experience in Germany this summer, I would like to totally immerse myself into the German linguistic environment. Besides the in-class study in the morning and in the afternoon everyday, I plan to have intensive reading on German scholarship concerning my dissertation every day after dinner. I will try to actively communicate with native speakers around, doing my best to avoid using English or my native language Chinese. I will also contact to meet graduate students and professors in my academic field nearby, to establish academic network and to have feedback on my dissertation writing, as well as to practice conversational German.