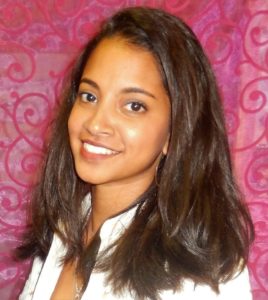 Name: Sandrine Lareine
E-mail: slareine@nd.edu
Language: Spanish
Location of Study: Buenos Aires, Argentina
Program of Study: Intensive Spanish Language
Sponsors: Center for the Study of Languages and Cultures and Kellogg Institute for International Studies
Blog URL: http://sites.nd.edu/sla2016/author/slareine/

A brief personal bio:
I am a rising junior majoring in ACMS (Applied & Computational Mathematics and Statistics) and Romance Languages & Literatures (Spanish & French). As you can tell by my first major, I like Math, but languages have always been one of my passions. Originally from the island nation of Mauritius (situated off of the East coast of Madagascar), I am fluent in English, French and Mauritian Creole. As a freshman in college, I was intent on learning a new language, and immediately loved Spanish. I hope to become proficient in the language and cannot wait for an amazing experience in Buenos Aires!
Why this summer language abroad opportunity is important to me:
A summer abroad in a Spanish-speaking country would be most beneficial in improving my language skills. The intensive courses would help me improve my writing and grammar while the immersion aspect of the program would be valuable in actually putting in practice what has been learnt in the classroom. I believe that one truly learns a language when one is exposed to the culture, which can only happen outside the classroom. Having a better grasp of the language would definitely be a major step towards completing my major in Romance Languages, and make me more confident in Spanish. Although I have not yet decided on my career path, I expect to be travelling around the world. Whether I go into the science field, or business and banking, knowing multiple languages will be a great asset. I also looked into teaching as a profession, and mastering Spanish, on top of English and French will definitely be a bonus. I believe that acquiring language skills is very valuable in today's globalised world, and is something everyone should want to achieve.
What I hope to achieve as a result of this summer study abroad experience:
The classes I plan to take in Buenos Aires will be helpful in consolidating my writing abilities, grammar and vocab. In addition, by providing me with the opportunity to be fully immersed in the Spanish culture, this grant would enable me to considerably improve my speaking skills. In fact, the course description online affirms that "on completing this course, students will be able to speak and write about complicated or sensitive issues using appropriate and complex language". Having studied some of Argentina's history in my Spanish classes and in my freshman seminar, I believe that the few weeks spent abroad will enable me to truly embrace the culture and language. This summer program would also allow me to meet students from all over the world who will be studying at the University of Belgrano, and build international relations. I am confident that this experience will help me grow, not only academically, but also personally. I cannot wait for the wonderful adventure to come!
My specific learning goals for language and intercultural learning this summer:
By the end of the summer, I will be able to hold a fluid conversation in Spanish with native speakers.
I will have a wider range of vocabulary and will be able to confidently and spontaneously engage in more in-depth conversations.
I will have improved my writing skills, which will be a step towards completing my Romance Languages major.
At the end of summer, I will have learned more about the Argentine history and culture.
My plan for maximizing my international language learning experience:
I intend to take courses in Advanced Spanish Languages and Literature while I am in Argentina for the summer. The classes meet every day from Monday to Friday and are geared towards students who wish to consolidate their communicative skills, both oral and written. Class sizes vary from 10 to 15 students which is a perfect number to achieve group learning when studying a language, but also leaves space for individual attention. The course therefore fits my needs. Living with a host family will help me learn the language at first hand and be a part of the Argentine culture. The program I applied to also includes excursions and cultural events to get the full experience. Other activities that promote active learning are also available. These include lectures, tours, workshops, opportunities to engage in the local culture and volunteering in which I am interested. I also plan to stay away from English speakers and converse only in Spanish while I am there to make the most of the SLA program.