Posted on July 12, 2017 in Uncategorized by Aedin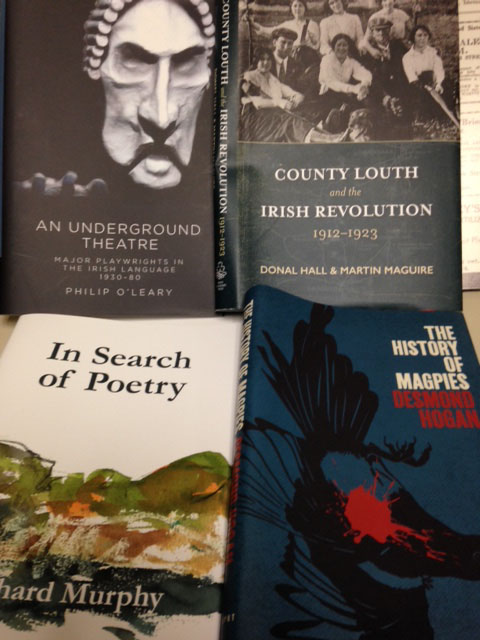 Newly-published books continue to arrive from our vendors in Ireland and the U.S. during the summer.
Here is a selection of titles of the Irish-published books that arrived in parcels since May:
(Dust-jackets shown here are from books just in the door and not yet cataloged.)
The Fenian Cycle in Irish and Scots-Gaelic Literature.
Joseph J. Flahive. Cork Studies in Celtic Literatures, 2017. PB 1397 .F5 F56 2017
Rebel Kerry: From the Pages of 'The Kerryman'.
Simon Brouder, ed. Mercier Press, 2017. DA 962 .R43 2017 (currently shelved in the New Book Area, first floor).
Time Pieces: A Dublin Memoir.
John Banville, Paul Joyce. Hachette, 2016. PR 6052 .A57 46 2016
Douglas Hyde: The Professor of Irish who became President of Ireland: Proceedings of Seminar Held to Explore Aspects of the Life and Achievements of Douglas Hyde, the First President of Ireland.
Attracta Halpin, Áine Mannion, eds., National University of Ireland, 2016. DA 965 .H9 D885 2016
Selected Poems
A.E. (George William Russell). Daniel Mulhall. Swan River Press, 2017. PR 6035 .U7 A6 2017 (currently in the New Book Area, first floor).
To commemorate the 150th anniversary of A.E.'s birth, Swan River Press is pleased to reissue this career-spanning collection of poems from a key artist of the Celtic Revival. This volume includes selections from The Earth Breath, Voices of the Stones, The House of the Titans, and others, introducing a new generation to Ireland's foremost mystical poet. – Swan River Press
Rise.
Elaine Feeney. Salmon Poetry, 2017. PR 6106 .E3445 .R57 2017
Hopdance.
Stewart Parker. Ed., Marilynn Richtarik. Lilliput Press, 2017. Special Collections (MR) Medium PR 6066 .A69 H66 2017.
The Therapy House.
July Parsons. New Island, 2017. Special Collections (MR) Medium PR 6066 .A7177 T54 2017.
The last two books are part of the Irish Fiction Collection, and are available for reading in the Special Collections Reading Room.