Recent articles in Irish Studies
One of the pleasures of perusing a journal from cover to cover is encountering a variety of material — scholarly articles, creative writing, book reviews –features that we might otherwise miss. Here is a selection of contents pages of Irish studies journals. I hope this 'current contents' list will be interesting to graduate students, especially.
Use the journal title for a link to the Hesburgh Library's catalog entry, and from there use your University ID for the online journal.
New Hibernia Review/ Iris Éireannach Nua: A Quarterly Record of Irish Studies is published by the Center for Irish Studies at the University of St. Thomas, Minnesota. Online at Project Muse.
23:4 Winter/Geimhreadh 2019:
The Back Room.
Gerald Dawe.
The Encroachment on Highbury: Ireland in Jane Austen's Emma.
Julie Donovan.
Irish Cinema under Erasure.
Michael Patrick Gillespie.
"Though Blighted Troth Be All Bereft": Famine Memory in Finnegans Wake.
Donal Manning.
Silent Noise: Narrative and Style in John McGahern's The Dark.
Martin Keaveney.
Filíocht Nua: New Poetry.
Fred Johnston.
"As Important … in My Childhood as the Catholic Church and the Fight for Irish Freedom": Legacies of Conflict in Maeve Brennan's Cherryfield Avenue Stories.
Ailbhe McDaid.
Reading the Cauldron: Landlords and Texts in George A. Birmingham's The Seething Pot.
Gerard Dineen.

Fear, Trembling, and Carousing: Father Phelan in Michael Crummey's Galore.
Beth Downey.
Brexit and Ireland.
Richard English.
"I Am this That and the Other": In Memory of Ciaran Carson.
Piotr Florczyk.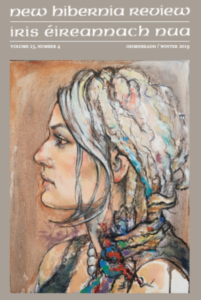 Reviews:
An Ulster Slave-Owner in the Revolutionary Atlantic: The Life and Letters of John Black, ed. by Jonathan Jeffrey Wright.
The Great Irish Famine: Visual and Material Culture. ed. by Marguérite Corporaal, Oona Frawley, and Emily Mark-Fitzgerald.
Cathal Brugha, by Fergus O'Farrell.
Mad, Bad, Dangerous to Know: The Fathers of Wilde, Yeats, and Joyce, by Colm Tóibín.
Then Again, by Pat Boran.
Published biannually by the Irish American Cultural Institute. On Project Muse.
Fall/Winter 2019
Flann O'Brien, James Joyce, and the Queer Art of Bare.
Catherine Flynn.
Soldiers, Sokol, and Symbolism: Forging a National Identity in 1930s Ireland. Conor Heffernan.
De Valera's Gains: The Masculine Body in Irish Political Cartoons, 1922-39. Timothy Ellis.
What to Wear for a Revolution? Countess Constance Markievicz in Military Dress. Gail Baylis.
From Silence to Plenty: The Famine in Early Twentieth-Century Periodical Fiction. Lindsay Janssen.
St. Patrick Meets St. Louis: The Display of the Irish at the 1904 St. Louis World's Fair. Jeffrey O'Leary.
Gaels on the Pacific: The Irish Language Department in the San Francisco Monitor, 1888-91.  Matthew Knight. (Followed by an Index of First Lines of Poetry in the Monitor).
Silk-Stocking Sympathy: American Whig Rhetoric and the Irish Famine. James M. Farrell.
Maria Edgeworth's "Little Platoons": The United Kingdom as Professional Society. Sara L. Maurer.
A journal of Irish literary criticism, affiliated with IASIL, and produced biannually. The November issue includes the IASIL Bibliography, an annual record of critical writings worldwide on Irish literature. Online at Edinburgh University Press.
Reflections on the Published and Unpublished Poetry of Mary Lavin. James Ryan.
Four Poems. Mary Lavin.
'Come up to a place like this?' The Problem with Seeking Sanctuary in the Rural in Mary Lavin's Short Stories. Deirdre Flynn.
The Adventures of Miss Sophia Berkley: Piracy, Print Culture, and Irish Gothic Fiction. Christina Morin.
Tuam Babies and Kerry Bables: Clandestine Pregnancies and Child Burial Sites in Tom Murphy's Drama and Mary Leland's The Killeen. Mary Burke.
McGuinness's Music.  Helen Heusner Lojek.
The Right to Dream: Gender, Modernity, and the Problem of Class in Kate O'Brien's Bourgeois Bildungsromane. Naoise Murphy.
Faeries, Aliens, and Leviathans: Science and Fantasy in Ian McDonald's King of Morning, Queen of Day. Richard Howard.
Maeve Kelly: Women, Ireland, and the Aesthetics of Radical Writing. Simon Workman.
The Comic Uncanny in John Banville's Eclipse. Bryan Radley.
Elegising the Past and Future: Seamus Heaney's 'Route 110' Sequence. Ian Hickey.
'She done Coriolanus at the Convent': Empowerment and Entrapment in Teresa Deevey's In Search of Valour. Willa Maley.
Secrecy, Alterity, and Defiant Femininity in Eiléan Ní Chuilleanáin's The Boys of Bluehill. Pilar Villar-Argáiz.
Reviews:
Irish Crime Fiction, ed. by Brian Cliff.
A History of Irish Autobiography, ed. by Liam Harte.
María Elena Jaime de Pablos (editor), Giving Shape to the Moment: The Art of Mary O'Donnell: Poet, Novelist and Short Story Writer, ed. by Maria Elena Jaime de Pablos.
The Theatre of Thomas Kilroy: No Absolutes. José Lanters.
Oscar Wilde and Contemporary Irish Drama: Learning to be Oscar's Contemporary. Graham Price.
J. G. Farrell's Empire Novels: The Decline and Fall of the Human Condition. Rebecca Ziegler.
IASIL Bibliography 2018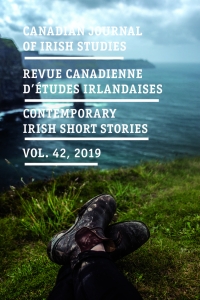 The journal of the Canadian Association for Irish Studies, currently edited at the School of Irish Studies at Concordia University Montreal. Online at JSTOR.
Volume 42 (2019): Special Edition on Irish Short Stories. Guest editor, Michael Kenneally.
Contemporary Short Stories (Guest Editor's Introduction), Michael Kenneally.
An Interviews with Author Kevin Barry. Michael Kenneally and Kevin Barry.
Seeping into Stones: The Fractured Landscapes of Kevin Barry. Shaney Hermann.
"I wanted them not to be lost": Immigration and Irish Short Fiction. Paul Delaney.
The New Dubliners: Contemporary Irish Short Story Cycles. Elke D'hoker.
[Un]covering Joyce: Dubliners 100 and the Contemporary Irish Short Story as Intertextual Practice. Gillian Moore.
Ecological and Social Awareness in Place-Based Stories. Derek Gladwin.
"Black and White, Flickering": The Visual Cycle in Kevin Barry's Short Fiction. Gregory Dekter.
Delaying/ Arrest: The Irish Short Story since 2000. Adrian Goodwin.
Autonomy, Naturalism, and Folklore in Claire Keegan's Walk the Blue Fields. Eoghan Smith.
Reviews:
Griffintown: Identity and Memory in an Irish Diaspora Neighbourhood, by Matthew Barlow.
The Imperial Irish: Canada's Irish Catholics Fight the great War, 1917-1918,  by Mark G. McGowan.
A Land of Dreams: Ethnicity, Nationalism, and the Irish in Newfoundland, Nova Scotia, and Maine, 1880-1923,  by Patrick Mannion.
Landscapes and Landmarks of Canada: Real, Imagined, (Re) viewed, by Maeve conrick, Munroe Eagles, Jane Koustas, Caitríona Ní Chasaide.
"The Food Issue" Canadian Journal of Irish Studies, vol 41, by Rhona Richman Kenneally, Máirtín Mac Con Iomaire.
Masculinity and Power in Irish Nationalism, 1884-1938, by Aidan Beatty.
Relocated Memories: The Great Famine in Irish and Diaspora Fiction, 1846-1870, by Marguérite Corporaal.
Remembering the Troubles: Contesting the Recent Past in Northern Ireland, by Jim Smyth.
Whose Mission, Whose Orders? British Civil-Military Command and Control in Northern Ireland, 1968-74, by David A. Charters.
Children, Childhood and Irish Society, 1500 to the Present, by Maria Luddy and James M. Smith.
Sport in Ireland 1600-1840 by James Kelly.
Heroes or Traitors? Experiences of Southern Irish Soldiers Returning from the Great War, 1919-1939,  by Paul Taylor.
Ambassador Extraordinaire Daniel O'Daly, 1595-1662, by Margaret Mac Curtain.
Letters of a Dead Man, by Herman von Puckler-Muskau, Linda B. Parshall, Niamh O'Sullivan.
In the Lion's Den: Daniel Macdonald, Ireland and Empire, by Niamh O'Sullivan.
The Irish Enlightenment by Michael Brown.
Making Oscar Wilde, by Michele Mendelssohn.
Flann O'Brien: Problems with Authority, by Ruben Borg, Paul Fagan, John McCourt.
George Bernard Shaw in Context, by Brad Kent.
Irish Divorce / Joyce's Ulysses, by Peter Kuch.
Reading Life, by Chris Arthur.
The Selected Essays of Sean O'Faolain, by Brad Kent.
The quarterly journal of the British Association for Irish Studies. Online at Taylor and Francis.
Volume 28:2 (2020)
Relocating Regionalism: The Fin-de Siecle Irish Colour Tale in Transnational Contexts. Marguérite Corporaal.
"The old cause is never dead": Hauntology and Brendan Behan's "The Hostage". Ian Hickey.
"Comfort plus excitement": Colonial Futures in Bob Shaw and David Hardy's Galactic Tours. Richard Howard.
Objective Historians, Irrational Fenians and the Bewildered Herd: Revionsist Myth and the Irish Revolution. Fearghal Mac Bhloscaidh.
Anticipating Northern Ireland's Post-Agreement Novel: Narrative Suspension in Deirdre Madden's One by One in the Darkness. Birte Heidemann.
"Like poetry or freedom / leaning in from sea": A Reconsideration of the Topography of Heaney's Poetry. Ellen Howley.
Reviews:
Taxation, Politics, and Protest in Ireland, 1662-2016, edited by Douglas Kenter and Patrick Walsh.
Civilising Rural Ireland: The Co-Operative Movement, Development and the Nation-State 1889-1939, by Patrick Doyle.
Protestant Nationalists in Ireland, 1900-1923, by Conor Morrissey.
Packy Jim: Folklore and Worldview on the Irish Border, by Ray Cashman.
Theories of International Relations and Northern Ireland, edited by Timothy J. White.
Hannah Lynch, 1859-1904: Irish Writer, Cosmopolitan, New Woman,  by Faity Binckes and Kathryn Laing.
Bram Stoker and the Late Victorian World, edited by Matthew Gibson and Sabine Lenore Muller.
Thomas MacGreevy and the Rise of the Irish Avant-Garde, by Francis Hutton-Williams.
John Banville and his Precursors, edited by Pietra Palazzolo, Michael Springer and Stephen Butler.
Woven Shades of Green: An Anthology of Irish Nature Literature, edited by Tim Wenzell.
Contemporary Irish Women Poets, by Lucy Collins.
Annual journal from Glucksman House, NYU. Online on JSTOR.
Volume 15 (2019)
The Irish Oresteia: An Interview with Colm Tóibín. Colm Tóibín and Kate Costello-Sullivan.
Irish Philadelphia Stories: Special Issue of the American Journal of Irish Studies. Joseph Lennon.
Three Philadelphia Stories. Kevin Kenny.
Grace Kelly, Philadelphia, and the Politics of Irish Lace, Mary Burke.
Down but Not Out in Late Eighteenth-Century Philadelphia: The Begging Letters of Irish Immigrants. Padhraig Higgins.
The Production History of Philadelphia, Here I Come! Kelly Matthews.
Creating an American Catholic Poplular Culture: The Contribution of Irish American Novelists: Eighteenth Annual Ernie O'Malley Lecture.  Eileen P. Sullivan.
The Challenge of Chartism: Daniel O'Connell's Idealogical War: A Lecture in Collaboration with the University of Notre Dame. Patrick M. Geoghegan.
Pádraig Feiritéar (1856-1924): Scoláire Ghaeilge sa Bhaile is i gCéin: 12ú Léacht Bhliantúil Bharra Uí Dhonnabháin. Meidhbhín Ní Úrdail.
Patrick Ferriter (1856-1924): An Irish Scholar at Home and Abroad: 12th Annual Barra Ó Donnabháin Lecture. Meidhbhín Ní Úrdail.
10th Annual Irish Institute of New York Lecture: Glucksman Ireland House, New York University April 20, 2017. Stanislaus Kennedy.
The European Union — Towards a Discourse of Reconnection, Renewal and Hope: The 11th Annual Emile Noel Lecture. Michael D. Higgins.
News from the Archives of Irish America at New York University. Marion R. Casey.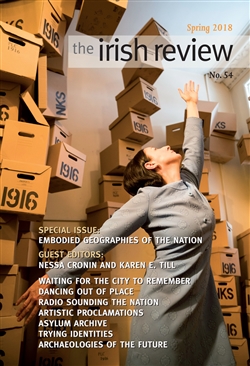 From Cork University Press, this is available online through EBSCO, and via Ingenta.
Volume 54:1 (Spring 2018):
Embodied Geographies of the Nation
Embodied Geographies of the Nation. Nessa Cronin and Keran E. Till.
Artistic Proclamations. Gerry Kearns.
'Take off yer boots': Céilí Bands, 2RN and Sounding the Nation. Tim Collins.
Waiting 'For the City to Remember': Archive and Repertoire in ANU Productions and CoisCéim Dance Theatre's These Rooms Karen E. Till.
Féile Fáilte: Dancing Out of Place Fearghus Ó Conchúir.
Asylum Archive: An Archive of Asylum and Direct Provision in Ireland. Vukasin Nedelikivic. 
Archaeologies of the Future: Landscapes of the 'New Ireland' in Gerard Donovan's Country of the Grand. Nessa Cronin.
Trying Identities: Erskine Childers and Roger Casement. Bryonie Reid. 
Poetry
Four Poems. Vahni Capildeo.
Two Poems. Miriam Gamble.
Three Poems David Wheatley. 
Reviews
Women Writing War: Ireland 1880-1922. Edited by Tina O'Toone, Gillian McIntosh and Muireann Ó Cinnéide.
OE Somerville and Martin Ross: Female Authority and Literary Collaboration. Anne Jamison.
Contentious Terrains: Boglands, Ireland, Postcolonial Gothic. Derek Gladwin.
Seamus Heaney and the Adequacy of Poetry. John Dennison.
Uncertain Futures: Essays about the Irish Past for Roy Foster. Edited by Senia Paseta.
And so began the Irish Nation: Nationality, Nationalism and Nation Consciousness in Pre-Modern Ireland. Brendan Bradshaw.
Philanthropy in Nineteenth-Century Ireland. Edited by Laurence M. Geary and Oonagh Walsh.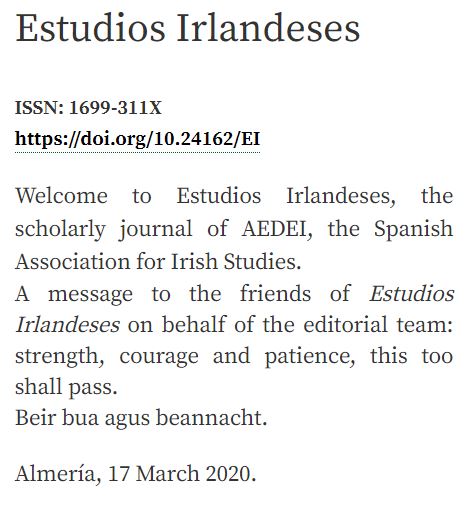 The scholarly journal of AEDEI, the Spanish Association for Irish Studies.
Issue 15 (March 2020)
Understanding and Mis-Understanding in Language in Brian O'Nolan's An Béal Bocht and Cruiskeen Lawn. Comprensión e inconprensión en el lenguaje en An Béal Bocht y Cruiskeen Lawn, de Brian O'Nolan. Julieta Abella.
"Portals of Discovery": Historical Allusion in Joyce's Portrait. "Portales de descubrimiento": Alusiones históricas en Portrait, de James Joyce. Maria-Ángeles Conde-Parilla.

"Cannot an Irishman be a good man?": Maria Edgeworth's "The Limerick Gloves" (1804) as a Tale of Irish Identity. "¿Es que no puede un irlandés ser un buen hombre?" "The Limerick Gloves" (1804) de Maria Edgeworth como relato sobre la identidad irlandesa. Carmen María Fernández-Rodríguez.
Disrupting Colonial Views: Savvy Nabobs, Oriental Dreams, Colonial Appropriations in J. C. Mangan's "An Extraordinary Adventure in the Shades" and "The Thirty Flasks". Distorsionando visiones coloniales: Nababs espabilados, sueños orientales. Apropiaciones coloniales en "An Extraordinary Adventure in the Shades" y "The Thirty Flasks", de J.C. Mangan. Richard Jorge Fernández.
Staging the Outcast in Brendan Behan's Three Prison Dramas. Subiendo a excena a los marginados en tres obras de teatro sobre prisión de Brendan Behan. Wei H. Kao.
The "Production" of "Reflection". Adolsecent Choices in John McGahern's The Dark. La "producción" de "reflexión": elecciones adolescented en The Dark, de John McGahern. Martin Keaveney.
Heaney and American Poetry: The California Narrative. Heaney y la poesia american@ La narración de California. Christopher Laverty.
"Teresa speaks to poets": Mystical Experience, Apology and Literary Creation in Kate O'Brien's Teresa of Ávila. "Teresa habla a los poetas": Experiencia mistica, apologia y creación literaria en Teresa of Ávila, de Kate O'Brien. Pilar Somacareraa- Íñigo.
Place-lore in the Mélusine Narrative from Irish Tradition. Sabiduria tradicional sobre lugares en las narraciones sobre Melusina dentro de la tradisión irlandesa. Tiziana Soverino.
Echo's Bones and Samuel Beckett's Early Aesthetics: "The Vulture", "Alba" and "Dortmunder" as Poetic Manifestos. Echo's Bones y la estética inicial de Samuel Beckett: "The Vulture", "Alba" y "Dortmunder" como manifiestos poéticos. Sławomir Studniarz.

El arte por el dolor: resemantización estética de la crueldad en "The Birthday of the Infanta" de Oscar Wilde. Art for Grief's Sake: Aesthetic Resignifying of Cruelty in Oscar Wilde's "The Birthday of the Infanta". Eduardo Valls Oyarzun.
"A Pint of Plain in Your Only Man": Masculinities and the Pub in Twentieth Century Irish Fiction. "Una pinta de cerveza es tu único amigo": Masculinidades y pubs en la ficción irlandesa del siglo XX. Loic Wright.
"Stretching the Imagination into another World": An Interview with Eibhear Walshe. "Estirando la imaginación hasta otro mundo": Una entrevista con Eibhear Walshe. Pilar Villar-Argáiz.
"Folklore seeks out the things that are not permitted in official discourse". An Interview with Lillis Ó Laoire. "El floclore saca a la luz aguello que no está aquello que no está permitido en el discurso official": Una entrevista con Lillis Ó Laoire. José Francisco Fernández.
Are my Stars from Ireland? Reflections on an Irish-American Experience. ¿Vienen de Irlanda mis estrellas? Reflexiones sobre una experiencia americanoirlandesa. Michael Coffey.
Translation
Introductory Essay. "Resisting Power and Direction": The King of Spain's Daughter by Teresa Deevy as a Feminist Call to Action. "Resistiéndose al poder y a la dirección": La hija del rey de España, de Teresa Deevy, como una llamada feminista a la acción". Úna Kealy.
Translation of The King of Spain's Daughter (1935), by Teresa Deevy. Traducción de La hija del rey de España (1935), de Teresa Deevy.  Andrés Romera.
The Year in Review
Irish Studies in Spain – 2019. Los estudios irlandeses en España en 2019. María Losada Friend.
Irish Studies Round the World – 2019. Los estudios irlandeses alrededor del mundo – 2019. Christina Hunt Mahony.
Irish Film and Television – 2019. Cine y televisión irlandeses – 2019. Roddy Flynn, Tony Tracy.
As soon as this was done, I learned about another Irish studies journal, RISE: Review of Irish Studies in Europe.  The current issue, 3:2 (March 2020) is on the Home Rule Crisis. It is published by EFACIS, the European Federation of Associations and Centres of Irish Studies.
I hope you find something interesting in the samples above. It is certainly interesting to see the range of interdisciplinary journals of Irish studies in our library.