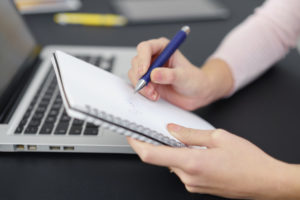 [This guest blog post comes from fellow Graduate Career Consultant, Cindi Fuja]
I love making lists. Strike that. I love crossing things off my lists. Whether it's my shopping list, keeping track of how much water I've managed to down, or simply working on my daily calendar–I get a feeling of forward motion; of control, of staying on track when I've done some thoughtful planning of what tasks I need to accomplish.
Fellow list maker, Moorea Seal has recently published an entire book, The 52 List Project, to inspire her followers to keep lists as inspiration for personal journaling. The Muse re-posted from a professional perspective. I loved the idea immediately–and since I'm in the business of graduate career consulting, my brain started thinking about how that concept could be modified to reveal workable career strategies. And the more I thought about it, the more ideas I developed.
Let's join forces in a Career List Project for the coming year! You'll learn more about yourself; you'll explore various career trajectories, and you'll develop a personal career strategy along the way. Here are a few ideas to get you started:
For job seekers
List 3-5 Industries To Learn More About This Summer
List 20 Companies (or Organizations or Universities) that You'd Like to Work For
List the 10 Accomplishments You're the Most Proud Of
List 7 Things that You Do Better Than Most People
List What You Most Admire About Your Advisor
For upcoming graduates (and alumni) who have accepted employment
List 5-8 People at Your New or Current Organization You Will Have Coffee With This Summer
List 5 Ways You Will Act Differently as a Professional Colleague Than as a Student
List 7 People Who Helped You Achieve Your Goals (and Then Thank Them)
List 5-10 Special Graduate School Colleagues or Classmates to Remain Connected With
Pick a "For job seekers" list above and begin plotting the next step in your career
For everyone
List 25 of Your Favorite Inspirational Quotes
List 12 Things that Motivate You
List the Next 10 Books You Want to Read
List 5 People You Want to Build A Professional Relationship With This Summer
List 6 Current Events (Political or Otherwise) You Will Follow To Stay Informed
Feel free to suggest more lists in the comments below.
I am challenging each one of you to post one of YOUR summer career lists on Twitter or Facebook using the hashtag #IrishReady and keep us updated as to your progress (e.g. what topics you chose, what worked for you, what didn't work for you, what you've already crossed off). Current ND grad students (and grad alumni) from Engineering, Science, and Arts & Letters: I'll be treating my favorite five posters to a copy of Moorea Seal's "The 52 Lists Project"! Ready? Go…!