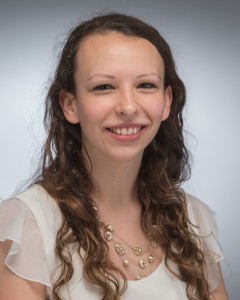 MS in Patent Law, The University of Notre Dame du Lac, May 2015 (expected) BS in Biology- Genetics, Minor in Technical Theatre, Ball State University, May 2014
Catherine Stevens is a 2014 graduate of Ball State University in Muncie, IN. There she earned her Bachelors of Science in Biology with a concentration in Genetics. She has experience in topics such as human genetics, genomes, vertebrate zoology, and molecular biology. Catherine is a graduate student in the 2014-2015 MS in Patent Law program at the University of Notre Dame. She is currently taking courses on patent searching, patent prosecution, and patent application drafting. She will also be drafting a patent application for research on the inhibition of EGFR as a strategy to eliminate ECM-detached, metastatic breast cancer cells.
Catherine has a passion for genetics, but also possesses a love of psychology, social justice, and the arts. Along with her degree in genetics, she also took numerous psychological science courses as well as technical theatre courses in electrical lighting and sound. In her life, Catherine has participated in volunteer work such as home rebuilding in New Orleans and assisting at a domestic violence shelter. Catherine hopes to work as a patent agent in the field of genetics and medicine as well as eventually earn her Masters in genetic counseling.
While earning her MS in Patent Law, Catherine is interning for Lippert Components in Goshen, IN.
Catie can be reached at stevens.67@nd.edu