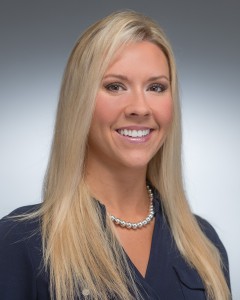 Education
MS in Patent Law, The University of Notre Dame du Lac, May 2015 (expected)
Megan received a Juris Doctor, Cum Laude, from the Thomas M. Cooley Law School and a Bachelor of Science in Biological Sciences from the University of Missouri.  During her time at Cooley law she served on both the Thomas M. Cooley Law Review and the Thomas M. Cooley Journal of Practical and Clinical Law, earning the Outstanding Editor award in 2010.
Biographical Information
Megan has been a licensed, practicing attorney for over three years, mainly focusing in the areas of family law including dissolutions, custody disputes and modifications.  She has practiced in a small firm capacity as well as in a large corporate firm.  Megan interned at Rynearson, Suess, Schnurbusch & Champion, LLC, in St. Louis, Missouri where she practiced civil defense litigation under MBLE Rule 13.  Megan is a member of several professional associations including The Missouri Bar, The Kansas City Metropolitan Bar Association, The Bar Association of Metropolitan St. Louis, The Lawyers Association of St. Louis, Missouri, and The American Bar Association.  Additionally, Megan has passed the United States Patent and Trademark Office Examination (United States Patent and Trademark Office Registration Number: 72923).
Currently, Megan is an intern working for the Notre Dame Technology Transfer in partnership with the Cleveland Clinic to develop scientific innovation through a corporate entrepreneurship program.  She has also received a fellowship scholarship through the Notre Dame Master of Science in Patent Law program which allows her to blog for the MSPL course.
Publications
Megan has written two legal publications.  The first publication details how to streamline expenses in a Workers' Compensation case and the second publication discusses valuable negotiation strategies.
Debbie S. Champion, Brandy Johnson & Megan Usovsky, Workers' Comp Top Ten:  How to Cut Costs in 2011, Public Risk, February 2011, 16-19.  (http://www.avvo.com/legal-guides/ugc/cutting-employers–workers-compensation-costs-debbie-champion-brandy-johnson–megan-usovsky).
Sarah Perry, Debbie S. Champion & Megan Usovsky, Tips for the Art of Negotiation, Public Risk, September 2011, 6-9.  (http://www.flipseekllc.com/thinkprima201109.pdf)
Megan can be reached at usovsky.1@nd.edu