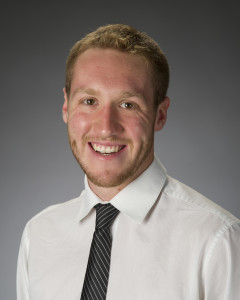 Education
MS in Patent Law, University of Notre Dame du Lac, May 2016 (expected).
BA in Astrophysics (minor in philosophy), Ohio Wesleyan University, May 2015.
Biographical Information
While pursuing his undergraduate studies, Josh became involved in a variety of student organizations, becoming Vice President of the Ohio Wesleyan chapter of the Society for Physics Students, as well as the Public Relations Chair for Delta Tau Delta Fraternity and spending six competitive seasons as a varsity student athlete. He took a position as a student TA for the Department of Physics and Astronomy for three years, wherein he introduced and clarified concepts in physics, astronomy, and mathematics to underclassmen enrolled in beginning physics and astronomy courses. During this time, he served a term as Vice President of the Physics and Astronomy Student Board (responsible for reviewing professors for tenure and merit), and also as an Economics Honors Society tutor for two years, helping students to grasp basic concepts in understanding economic trends and principles.
Josh worked alongside participants in the NSF REU program at Ohio Wesleyan for two years, collecting and analyzing regarding the variable magnitude and rotational phase of the K class star LO Pegasi. He and his research team presented these findings at two annual, national meetings of the American Astronomical Society in Washington D.C. (2014) and Seattle (2015). Additionally, Josh completed a related undergraduate thesis project under Dr. Robert Harmon, concerning single and multi-filter light curve inversion processes for stellar surface imaging. Since his enrollment at University of Notre Dame, Josh has been the recipient of a fellowship through the Master of Science in Patent Law program, giving him the opportunity to contribute to a semi-monthly blog for students who may be interested in the program. He hopes to translate skills he has acquired through the MSPL program into a successful career as a patent agent specializing in mechanical engineering and optics, and will likely pursue law school at a future date to become a patent attorney.
Josh can be reached at: joshrdenison@gmail.com