Dr. Juliane Hopf

Departmental Affiliation: Civil & Environmental Engineering & Earth Sciences (CEEES)
Degree and university: Doctorate in Natural Sciences from the Friedrich-Schiller-Univerity Jena
Expertise:
Microbiology, biogeochemistry, interdisciplinary sciences, surface characterization, atomic force microscopy
Webpage:
https://www.linkedin.com/in/hopfjuliane/
Publications with us:
1. Nanoscale Adv., 2019,1, 4812-4826
———————————————————————————————————————————-
Johanna Olesk (Graduate Student)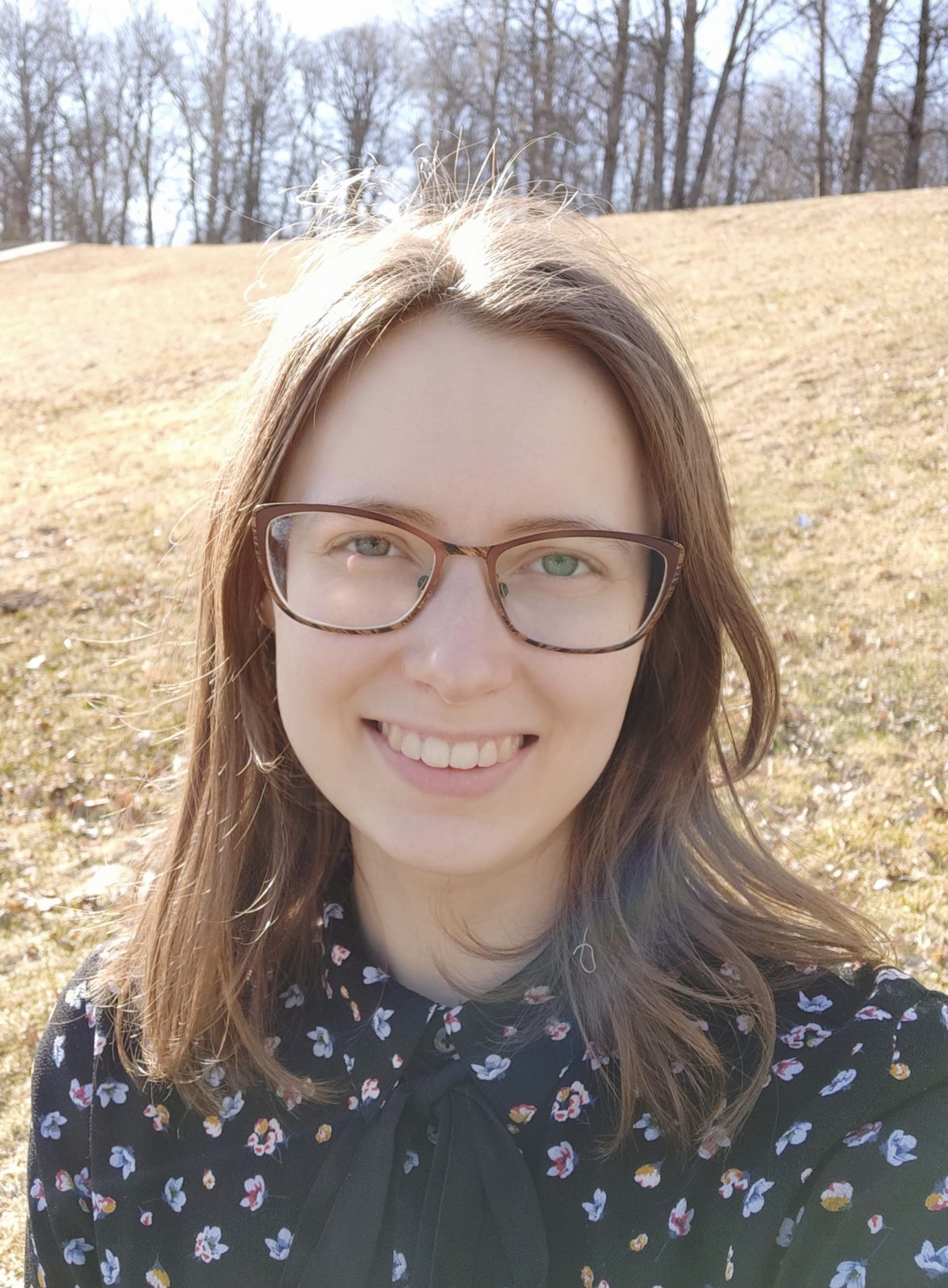 Departmental Affiliation: Bioengineering Graduate Program, Department of Chemical and Biomolecular Engineering (CBE)
Degree, Year and university: BSc in Bioengineering and Robotics from the University of Tartu (2021)
Expertise: Machine learning, synthetic biology, image processing, cell culture
Current Research: Current research focuses on the optimized design of antimicrobial phage-mimicking core-shell nanoparticles using AI. The computer-designed nanoparticles are further synthesized in the laboratory and tested in vitro and in vivo.
Webpage: www.linkedin.com/in/johanna-olesk-5912571b7
———————————————————————————————————————————-
Argerie Guevara (ND 2023)

Departmental Affiliation: Department of Chemical and Biomolecular Engineering
Degree Major: Chemical Engineering (2023)
Current Research:
Argerie's research focuses on synthesizing resobable core-shell nanoparticles using PLGA as a core to develop novel anibacterial therapeutics. As part of this project Argerie will work on testing the antibacterial efficacy of the nanoparticles in vitro (MRSA, P.aeruginosa) and in vivo (rabbit model of chronic sinusitis)

———————————————————————————————————————————-
Zach Bennett (ND 2023)

Departmental Affiliation: Department of Aerospace and Mechanical Engineering
Degree Major: Mechanical Engineering (2023)
Current Research:
Zach's research focuses on synthesizing gold-modified silica nanoparticles and silica-cobalt ferrite core-shell nanoparticles to develop novel therapeutics. Zach also works on biomedical imaging of animals and data analysis.
Webpage: zabennett.com
———————————————————————————————————————————-
Jordan Chang (ND 2022)

Departmental Affiliation: Department of Physics
Degree Major: Physics in Medicine (2022)
Current Research:
Jordan is currently researching core-shell magnetic nanoparticles for in vivo non-labeled, targeted delivery of chemotherapeutics to tumors with ON-Demand release capabilities. He will track the nanoparticles in vivo using MRI and fluorescence modalities.
Webpage: https://nd.joinhandshake.com/users/20128895
———————————————————————————————————————————-
Stephanie Wallace -ND 2021 (Presently University of Minnesota School of Medicine '25)

Departmental Affiliation: Department of Mathematics and Preprofessional Studies
Degree Major: Mathematics on life-science concentration with Actuarial Minor (2021)
Current Research:
Stephanie's focus is on synthesizing multi-fluorescent nanoparticles for long lifetime cell tracking probes, gene delivery to cancer cells and enzyme delivery to deficient cells
Awards: NDnano undergraduate research fellow 2019 (NURF)
Webpage: https://www.linkedin.com/in/stephanie_wallace
———————————————————————————————————————————-
Emma Tam – ND 2020 (Presently Fulbright English Teaching Assistant 2021-2022)

Departmental Affiliation: Department of Art, Art History & Design
Degree Major: Visual Communication Design and Arts and Letters Pre-Health (2020)
Current Research:
Emmas focus is on synthesizing bio-functionalized, multi-fluorescent anisotropic nanoparticles to act as synthetic bridges between immune cells and cancer cells for immunotherapy against cancer cells
Awards: Da Vinci undergraduate research fellow 2019
Webpage: https://www.linkedin.com/in/Emma_tam
———————————————————————————————————————————-
Margo Waters – ND 2020 (Presently Ohio State University School of Medicine '24)

Departmental Affiliation: Department of Preprofessional Studies
Degree Major: Science-Business (2020)
Expertise: Interdisciplinary sciences, cell culture techniques, organic chemistry, antibacterial nanoparticles
Current Research:
Margo researched the properties of core-shell nanoparticles for applications in non-labeled, targeted delivery of chemotherapeutics to cancer cells with ON-Demand release capabilities.
Awards: NDnano undergraduate research fellow 2018 (NURF)
Woodwards family endowment award for outstanding summer research (2018)
Webpage: https://www.linkedin.com/in/margowaters/
Publications with us: 1. Nanoscale Adv., 2019,1, 4812-4826
———————————————————————————————————————————-
Veronica Kalwajtys (ND 2020)

Departmental Affiliation: Department of Chemistry and Biochemistry
Degree Major: Science-Business (2020)
Expertise: Microbiology, antimicrobial peptides, interdisciplinary sciences, antibiotic resistance, and organic chemistry
Current Research:
Veronica researched anisotropic nanoparticles architectures for use as antibiotic-free, anti-bacterial formulations
Awards: COS-SURF 2018
Webpage: https://www.linkedin.com/in/veronica-kalwajtys-b90068156/
Publications with us: 1. Nanoscale Adv., 2019,1, 4812-4826
———————————————————————————————————————————-
Kyle Iwamoto (Presently engineer at Novartis)

Departmental Affiliation: Department of Chemical and Biomolecular Engineering (CBE)
Degree Major: Chemical Engineering (2018)
Minor: Bioengineering
Current Research:
Kyle started as an NDnano undergraduate research fellow (2016) under my supervision in Prof. Ryan Roeder's group. He synthesizes hybrid gold-silica nanoparticles for applications in photonics, catalysis, and chromatography.
Awards: NDnano undergraduate research fellow 2016 (NURF)
Conference Presentation:
K. Iwamoto, P.D. Nallathamby, E .Rigo, G. Timp, R. Roeder* "Optimization of Gold Surface Density on SiO2 @Au Core-Shell Nanoparticles for Holographic Fabrication of Ordered Arrays for Plasmonic Metamaterials" TMS'18 March 11-15, Phoenix, AZ.
———————————————————————————————————————————-
Graduate Research Trainees
Austin Boucher (2020)
Adviser: Prof. Richard Dahl
Departmental Affiliation: Department of Biological Sciences
Research overlap:
Austin was trained to synthesize block co-polymeric nanoparticles for use as gene therapeutics carriers.
Chris Campbell
Adviser: Prof. Thomas O'Sullivan
Departmental Affiliation: Electrical Engineering
Research overlap:
Chris was trained to synthesize asymmetrical gold nanoparticles (e.g. gold nanorods). His interest is in synthesizing near-IR resonant gold nanorods.
Yide Zhang (2019)
Adviser: Prof. Scott Howard
Departmental Affiliation:
Electrical Engineering
Research overlap:
Yide shadowed us to learn more about synthesizing oxygen sensitive luminescent silica particles and pH-sensitive fluorescent silica particles. His outstanding fundamental research using the optical properties of these particles has resulted in our group's first collaborative publication on super-resolution fluorescence microscopy. The imaging technology was co-invented by Yide and his graduate adviser.