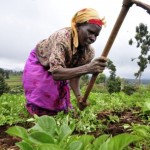 One of the most difficult tasks a pastor, pastoral associate, or director of religious education faces involves dealing with social justice topics. Objections quickly multiply to their inclusion in congregational life: "It's all too political!" "Everyone has their own personal opinion!" "It's too hard to respond to such issues."
And if social justice is difficult to embrace when we are discussing local concerns, it can be even harder when we try to speak of global concerns involving "distant others." These are the people who make our clothing, pick our fruits and vegetables, and immigrate as economic changes eject them from their countries.
Many Catholics do care deeply about distant others and act on their concerns by funding foreign development projects, sponsoring foreign churches, or serving Fair Trade coffee alongside donuts.
But what is our responsibility for the causes of the underlying problems? And what is the moral basis for our relationship to these distant others?  These were the topics of an inter-disciplinary conference sponsored last week by the Institute for Advanced Catholic Studies at USC.
As simply as possible, here is why the topic deserves attention and why it is so difficult to broach:
First, we all participate in an economy in which our individual activities are based on and generate systemic effects larger than ourselves. For example, the T-shirt you're wearing is likely made abroad, possibly in unjust working conditions, transported by a series of trucks, trains, and boats that add to human-generated global warming. (Sociologists call these "global commodity chains.") This chain of connection is a reality that many people do not want to see. This reality directly challenges individualized ways of thinking about moral responsibility.
Second, when we participate in the economy we are likely not intending to jeopardize the health of a foreign worker or degrade the environment. This reality challenges moral thinking, familiar to the Catholics, that focuses on intent. Even if we do not intend something, we are complicit in its occurrence. (This is one of the contributions of sociology—it helps us to show how the world works through social structures without assuming the world is just a collection of intended, individual decisions).
When we put these two realizations together, we begin to recognize that our participation in the capitalist system makes us responsible for distant harms, even when we, personally, do not intend the harm.
So what to do about it?
One exciting outcome of this conference was a set of answers to help us think about our response.  I suggest picking up the eventual book, edited by Dan Finn, but here are a few approaches to consider:.
Develop new ways to think about our lifestyles. Instead of seeing ourselves as individuals making choices, we should see ourselves as persons in relationships with others, particularly unseen others.
Reclaim deep themes in the Catholic tradition of communal purpose, interdependence, and care.
Foster a robust sphere of life not driven by economic themes of efficiency and "measurable results." In the United States, this often means the world of civil society and non-profits which needs protection from the encroachment of corporate practices that destroy solidarity and prevent public oversight. (See the recent debacle at UVA.)
A final answer is familiar during an election year: political activity that builds restraints on  economic activity. The Great Recession would not have been so harmful with such restraints; our future depends on them.
None of this is easy or straightforward. It means recognizing our consumer behavior for what is: a complex means of fulfilling needs which impacts many others.