Alumni Association Colleagues,
We invite you to review and participate in the all-UR initiatives listed below that were originally announced via Development's souNDoff weekly newsletter. We will strive to ensure the entirety of UR receives these updates in a timely fashion. Thank you for your patience and understanding.
DEI & (YO)U
Thank you to the 140+ people who attended our first DEIU Media Resource Group Discussion event, "I'm Still Here". If you haven't already, please complete this very brief 5 question survey that will provide us with valuable feedback as we continue on our DEIU journey together.
You can now track all UR DEIU events and initiatives with our new DEIU Calendar.
Even though the Klau Center's lecture series, Building an Anti-Racist Vocabulary, has concluded, our conversation around this important topic will continue. We will now turn to Nikole Hannah-Jones '98 1619 Project where you may listen to a podcast or read the transcript. The discussion will then take place on select Fridays from 1:55-2:25p.m. The schedule is below and please contact Sharon Rankert for the calendar invite and Zoom link. Thank you to everyone who joined previously, and we look forward to seeing many new and returning faces.
11/20 – Episode 1
12/4 – Episode 2
12/11 – Episode 3
12/18 – Episode 4
1/8 – Episode 5, part 1
1/15 – Episode 5, part 2
If you're interested in being a part of a DEIU Task Force committee, please click here and identify which committee you would like to serve on.
Also, please click here to give your feedback about our efforts related to DEIU – this feedback is completely anonymous!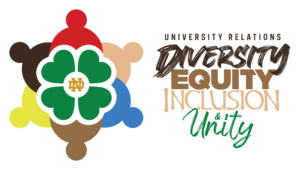 Free UR Yoga Classes
Sign up now for free virtual yoga! South Bend's own Caitlin Hubbard, owner of Bend Yoga, will be leading a series of classes for UR employees. The emphasis will be on stress relief and yoga basics so this class is for everyone! There are a limited number of spots available for in-studio access and these will be available first come first serve. Whether you plan to come in person or join virtually, sign up now and reserve your spot!
Share Your FavURite Thanksgiving Recipes!
As we prepare to celebrate Thanksgiving next week, we know that this holiday season will be different for all of us. Many of us will be unable to gather with extended family in the way we are accustomed to, and many of our holiday gatherings and traditions are on-hold this year. But we know that even in this challenging time, there is so much to be thankful for, including our wonderful UR colleagues! In this spirit, we invite you to share your favorite Thanksgiving recipes with the wider team. Appetizers, side dishes, entrees, and desserts, we want to hear them all! Just fill them in the FavURite Thanksgiving Recipes. And if you end up cooking one of these yummy dishes, snap a picture and send it to one of the IE Committee to share!
UR a Force for Good – REAL Services
For the month of November, we are partnering with REAL Services, whose mission is to forge a community in which older individuals are empowered to maintain their independence and find meaning and satisfaction throughout their lives. There are a variety of ways you AND your family can become involved!
1) Elves for Elders– This is a holiday gift card program for the seniors in our community. Each gift card is $50 and will support 1 senior. If you are interested in sponsoring a senior or even a portion of a gift card please indicate so here. You will be matched with an individual senior and their gift card preference at the end of the month. You can mail your gift card to REAL Services or drop it off with Grace/Amy on Friday, December 4 at ESC from 12-1pm. 
2) Letters & Cards from UR- Consider writing a note of encouragement or having your children draw pictures or make homemade cards for those who are a part of the Meals on Wheels program. There is no limit on the number of cards/letters we can use so get creative and have fun with it! Please have all cards/letters unsealed. You can drop your cards/letters off at ESC in a letterbox at the front desk. If you don't wish to enter the building, we will also have a drop off day in the ESC circle on Friday, November 20 from 12-1PM. 
If you have questions on any of these wonderful opportunities, please reach out to Amy Plotkin or Grace Prosniewski. And thank you in advance UR!