Who Are We?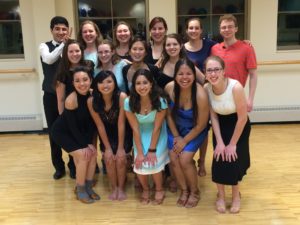 The ND/SMC Ballroom and Latin Dance Club offers dancing opportunities for every level of dance ability. We have everything from lessons for beginners who have never danced before and social lessons for those who want to learn a few dance steps, meet other dancers, and have some fun, to advanced technique-based lessons for those who want to learn the dances more in-depth. Throughout the year we also take part in collegiate dancesport competitions, and encourage anyone who is interested in dancing competitively to join us. Whatever your interests are, we are sure to have something you will enjoy!
Join our Facebook group here to connect with club members.
Dance Lessons
The club offers lessons for several dance styles. Join us for as many or as few as you would like! (Times and locations for the Fall 2017 TBA)
Social Lessons: Wednesday from 9:00–10:30pm in Rolf's AR 2.
American Lessons: Tuesday from 8:00–9:30pm in Rolf's AR 2.
Latin Lessons: Monday from 9:05–10:35pm in Rolf's AR 1.
Dance Competitions
We plan to attend a number of competitions for the 2017–2018 academic year!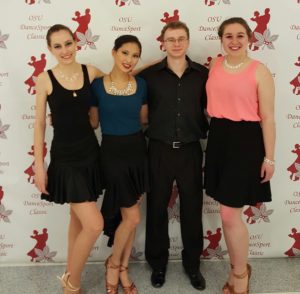 Illini Dancesport Invitational
Badger Ballroom Dancesport Classic
Valpo Comp
OSU Dancesport Classic
MichComp
Irish Dancesport Gala
On-Campus Events
This year, we plan to perform in on-campus events hosted by other clubs and organizations: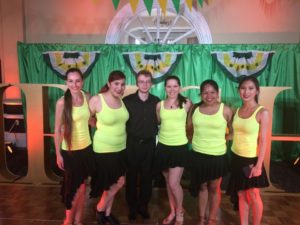 Welsh Fam Dance Fest
Project Fresh Show
Notre Dame Day
Club Activities
We take pride in the strong relationships we have in our ballroom community. Not only do we dance together at lessons, but we also get together for on-campus events, dominate Legend's dance floor during salsa night, and bond over meals and movie nights. Here are some fun events that the club participates in outside of lessons: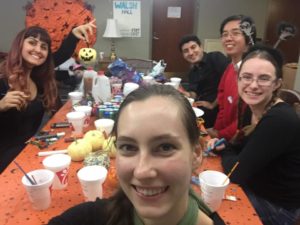 Salsa Night and Swing Night @ Legends
Pumpkin Party
Yule Ball
End of Year Formal