Thank you for attending the 2022 Irish Dancesport Gala!
We hope to see you in 2023!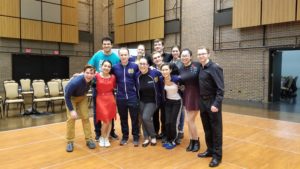 2022 Irish Dancesport Gala
Dates, Times, and Locations
Welcome Dance: Friday April 8th, 2022, 8-11 p.m.
Competition: Saturday April 9th, 2022, starting at 7:30 a.m.
Location: Saint Joseph High School, 453 N Notre Dame Ave, South Bend, IN 46617
Please refer to THE VENUE tab for links to maps to the venue and parking for the Welcome Dance and competition.
If you do not check in with us at the Welcome Dance, please arrive early at 6:30AM the day of the competition.
Competition Schedule
Due to the large number of registrants, events are expected to go until 9:00pm without lunch or dinner breaks.
7:30am — American Smooth
10:41am — International Standard
1:58pm — American Rhythm
5:11pm — International Latin
9:06pm — Fun Dances!
The order of first rounds will be Bronze-Gold-Newcomer-Silver-Novice-Prechamp.
Newcomer and Silver level events will be intermixed.
Bronze and Gold level events will be intermixed.
Officials
MC: Ramzi Bualuan
DJ: Kevin Guy
Scrutineer: Daniel Dilley
Judges:
Yuehwern Yih- Chair of Judges
Kayla Carpenter
Mary Jester
Izabela Jaworska
Mariusz Skonieczny
Results