Latin Lessons
Monday 8:30-10:00pm In Rockne memorial room 205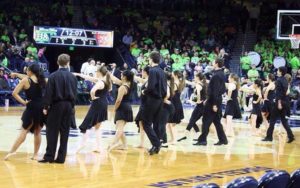 Our Latin style lessons include an in-depth study of international Cha Cha, international Rumba, Samba, and Jive. Similar to the American lessons, the Latin lessons are offered in both the beginner and advanced levels. Our tireless coach, Kevin Guy, not only teaches the steps to these fiery dances, but also breaks them down to the basic motions and technique. Weekly attendance as well as a little practice on your own time (even if it's just in front of your bathroom mirror) is the most effective approach to these lessons.
American Lessons
tuesday 8:30-10:00pm IN Rockne memorial room 205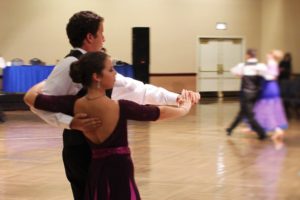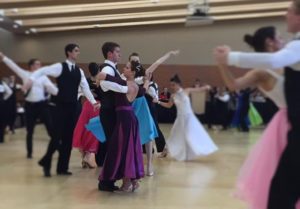 Our American style lessons include American smooth dances (Waltz, Tango, Foxtrot, and Viennese Waltz) as well as American rhythm dances (Cha Cha, Rumba, Swing, and Mambo). We offer both beginner (newcomer) level classes for those who are just starting to dabble in dance and advanced (bronze and above) level classes for those who are a little more confident on the dance floor. Even if you have two (or three) left feet, we can help you learn to glide gracefully around the floor. Our dedicated coach Kevin Guy will start from the basics of the dances and focus on the most fun (and challenging) part of ballroom dancing: the connection between leader and follower and the technique that makes this connection strong. These lessons are the most beneficial when attended consistently.
Social Lessons
Thursday 8:30-10:00pm In Rockne memorial room 205

Looking for a fun evening of dancing and meeting new people? Want to learn to handle yourself a little more confidently on the dance floor without getting too technical? These lessons are your best bet! The weekly social lesson is taught by student instructors and tailored to those with little-to-no previous partner dance experience. You will learn the basic moves of most of the major ballroom dances including Cha Cha, Tango, and East Coast Swing, as well as other social dances including West Coast Swing, Night Club Two-step, Salsa, and Bachata. You will have the opportunity to get to know many other Notre Dame and SMC students in a fun, friendly environment!
---
Club Dues
Dues for one semester are $25 for regularly attending one instructor-taught and one student-taught lesson weekly (Monday or Tuesday, + Thursday), $40 for two instructor-taught lessons and one student-taught lesson weekly (Monday and Tuesday, + Thursday), or $10 for the student-taught lesson weekly (Thursday). Alternatively, dues are $5 per lesson until you reach the $25 threshold (or $40 for two lessons per week).