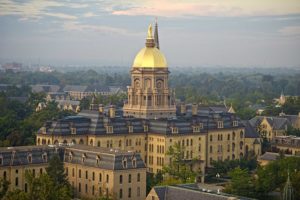 Directions and Parking
Welcome Dance: St. Joseph High School
Competition: St. Joseph High School
Here are the instructions to get to the venue. Please use the Event Entrance located on St. Louis Blvd. Parking is available at the venue in the parking lot nearest the Event Entrance.
Food and Drink
Water will be provided for dancers.
Food is allowed in the gym as long as we can keep it tidy out of respect for our host venue.
There are many restaurants around South Bend!
Rocco's Restaurant – Pizza Restaurant
537 N St Louis Blvd, South Bend, IN 46617
Chicory Café – Cajun-themed café
105 E Jefferson Blvd #103, South Bend, IN 46601
Peggs – good variety of breakfast and lunch meals
127 S Michigan St, South Bend, IN 46601
Bruno's Pizza Downtown – Pizza, yum!
131 S Michigan St, South Bend, IN 46601
South Bend Brew Works – flatbread, grilled cheese, and baked pasta
216 S Michigan St, South Bend, IN 46601
Fiddler's Hearth Public House – the best Irish pub food in town
127 N Main St, South Bend, IN 46601