Club Officers
Below are our club's officers for the 2018–2019 academic year. We encourage any of you who would like to help shape the vision and direction of the club to consider participating in some capacity. Reach out to us with any comments, join our officer meetings, or shoot us an email.
Co-President — Joe Drey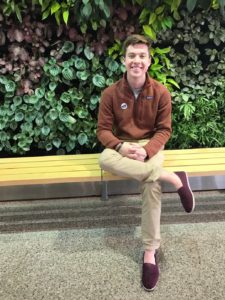 Joe is a senior Political Science major at Notre Dame with a minor in International Development. He comes from the great state of Iowa and currently lives in Dillon Hall. Joe decided that it would be awesome to learn to ballroom dance so he joined the club in the second semester of his freshman year, and has loved it ever since. Besides dance, Joe is a member of the trumpet section in the Band of the Fighting Irish and enjoys playing tennis and watching Disney movies. Joe is excited to serve as co-president this year and encourages everyone on the fence about dancing to give it a try!
Email: jdrey@nd.edu  
Co-President — Scott Manning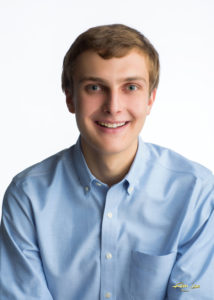 Scott is a sophomore Chemical Engineering major at the University of Notre Dame. Originally from New Mexico, he lives on-campus in Knott Hall. He joined Notre Dame and Saint Mary's Ballroom Club at the start of his first year with no prior dance experience, and he had a great time. He looks forward to another year of dancing. Outside of dance and academics, Scott enjoys hiking and camping with friends. As hobbies, he listens to music and writes creatively. Scott welcomes all new and returning members to the club!
Email: amannin2@nd.edu
Vice President — Ava Langstaff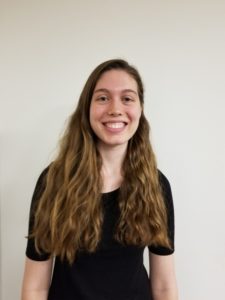 Ava is a sophomore Electrical Engineering student with a supplementary major in Physics. She currently lives in Lewis Hall and is from Aurora, IL. Ava joined Notre Dame's Ballroom Dance Club her first year with no prior dance experience and looks forward to continuing while at Notre Dame. Interests outside of ballroom include reading and conducting holography research.
Email: alangsta@nd.edu
Secretary and Treasurer — Jessamine Kuehn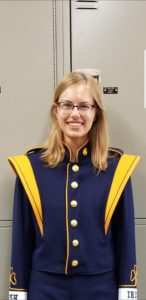 Jessa is a sophomore from Maple Grove, Minnesota. She lives in Pasquerilla East Hall and is majoring in Biochemistry. Jessa was a ballroom dancer during her last two years in high school, and wore yellow to all ballroom dance events (including the Irish Dancesport Gala during her senior year!). Aside from dancing, Jessa plays the trumpet in the Marching Band of the Fighting Irish and conducts research at the Harper Cancer Research Institute. She thoroughly enjoys having picnics with friends around campus and taste testing all the best combinations of food at North Dining Hall. She is excited for another year of ballroom dancing and looks forward to putting on creative recruitment events! 
Email: jkuehn2@nd.edu
---
Coaches
Below are the Notre Dame Ballroom Dance Club's coaches for the 2018–2019 school year. Feel free to contact them about private lessons and any other questions you may have.
Latin Coach — Mariusz Skonieczny
Mario Skonieczny was born in Poland. He immigrated to the United States at the age of 16. He has been dancing for 15 years. He is best known for Latin dancing which includes International Latin, American Rhythm, and Salsa club dancing. He currently competes with Mary Jester in professional Latin.
American Coach — Kathy Nate
Kathy Nate has owned and operated her own dance studio for 45 years. She is trained in American Style and urges her students to partake in learning the technical aspects of dance in order to compete. She gives her students short routines to learn in each dance so that the focus stays on execution. Kathy instills in her students that it's not the number of patterns that you know but how well you do them is what constitutes a good dancer. She is known as the trend setter in her area for club style dances such as Nite Club 2-Step, West Coast Swing, Shag, and Country 2-Step. Private dance lessons are available for ND competitors at her studio at a discount. Call 574-274-9024 for details.
Social Coach — Barb Coon
Barb graduated with honors from Arthur Murray Dance Schools and is a professional instructor and choreographer. She teaches and coaches at dance studios, workshops, and independently; and judges at collegiate ballroom competitions. Barb has received countless championship awards and trophies at competitions and exhibitions. She also instructs and supports USA Dance clubs. But what she loves the most is coaching, teaching, and judging competitions for our ND/SMC Ballroom Dance Club which she has been doing since 1998! Barb enjoys meeting new students and sharing her joy and passion for ballroom dancing.