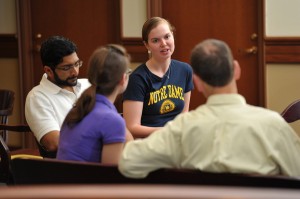 The Kaneb Center for Teaching and Learning seeks graduate students with Notre Dame teaching experience to serve as Kaneb Center Graduate Associates for the 2012-2013 academic year.  Kaneb graduate associates facilitate workshops on effective teaching, develop teaching resources, and contribute to other activities to help graduate students develop as teachers.
According to Carrie Rodak, current Kaneb graduate associate, "My interactions with the Kaneb Center have forced me to sit down and focus on myself as a teacher and learner in a deeper and more reflective manner than I ever could have done on my own.  Being the Kaneb Center Graduate Associate has been an incredible experience that will no doubt payoff down the road!"
Graduate associates will receive training (required) to prepare them to serve as workshop leaders and mentors.  In addition, they attend weekly meetings with Dr. Amanda McKendree, assistant director of the Kaneb Center, during which they contribute content and ideas for Kaneb Center program planning.  Throughout the semester, Kaneb graduate associates contribute 6-10 hours per week, depending upon availability, and receive a stipend commensurate with hours worked.
Applicants should be at least in their 4th year of graduate study while holding this position. For information on how to apply, please email kaneb@nd.edu. Applications are due April 6, 2012.