We are excited to welcome two outstanding keynote speakers to this year's conference!
---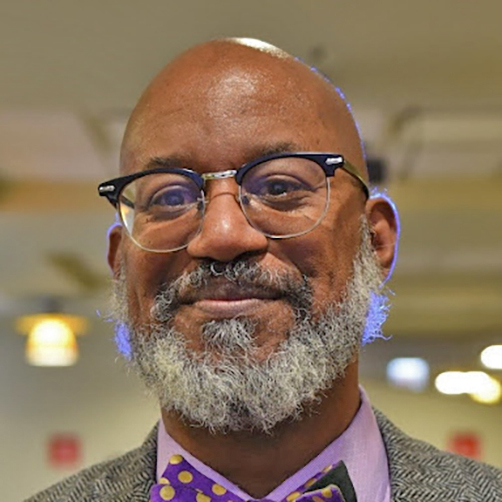 David Anderson Hooker
Founder and Principal Narrator for
CounterStories Consulting, LLC
David Anderson Hooker is the founder and principal narrator for CounterStories Consulting, LLC, an organization that engages as a conversation and visioning partner with international, national, and local civil society organizations as well as religious groups, organization leaders, and social entrepreneurs to craft narratives of their preferred futures and align organizational structures and internal practices in furtherance of their constructed narratives.
Dr. Hooker is also a founding board member of the Chicago Torture Justice Center, where he is currently working to develop both the theory and practice of "politicized healing" as a new articulation of justice. He is the author or co-author of several important peacebuilding books, including The Little Book of Transformative Community Conferencing and Transforming Historical Harms, and has written several chapters and articles on restorative justice, the results of multi-generational trauma, and the roles of narratives in identity formation and multi-generational trauma.
Dr. Hooker formerly served as Professor of Conflict Transformation and Peacebuilding at the Kroc Institute for International Peace Studies, as Senior Fellow for Community Engagement Strategies at the J. W. Fanning Institute for Leadership Development at the University of Georgia, and as Associate Professor of Conflict Studies at the Center for Justice and Peacebuilding at Eastern Mennonite University.
---
Carl Philip Dybwad
Student Climate Activist
Design Director at JUV Consulting
Carl Philip Dybwad is a twenty-one-year-old climate advocate from Norway and current Design Director at JUV Consulting in New York. He is an undergraduate student at Sciences Po Paris, where he studies politics and government, and is currently engaged in scholarship at Vassar College in New York.
As a former ASTM delegate to the United Nations Climate Change Conference (COP26) and a former Norwegian Youth Delegate to Pre-COP26, Carl Philip seeks to raise awareness on green design and urbanization while catalyzing youth grassroots movements to demand local and sustainable institutional change.
Carl Philip is a firm believer in the power of volunteerism and has previously served as the volunteer leader for Elizabeth Warren's presidential campaign in Iowa. He has also worked as an organizer for the Surfrider Foundation Europe, a non-for-profit organization that brings together a variety of social actors with the aim of safeguarding the world's oceans and the populations that rely on them.