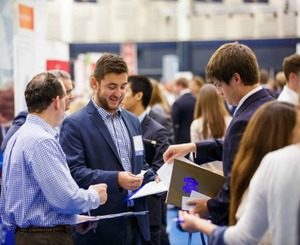 The Fall Career Expo, Breakfast with Graduate STEM Champions, and CBE Symposium are less than 2 weeks away (September 6th). Lisa Kochert, leader of the North America campus talent acquisition team at Avanade, was gracious enough to provide us with this guest blog post from an employer's perspective on how to succeed at networking events on campus. Avanade will be at both the STEM Breakfast and the Career Expo.
*************
To Play Like a Champion You Need a Strategy
How to Get the Most Out of Networking on Campus
For many, the thought of attending a campus event where employers are present can lead to eye rolling and thoughts of wasted time. I'd like to argue that nothing could be further from the truth. Avanade, a leading digital innovator has hired many "Fighting Irish," and we met all of them on campus!
In today's competitive job market, employers are increasingly in pursuit for the best talent, and there's no better way to meet those candidates than in "your backyard," at a campus organized event.
If you're able to get facetime with an employer, there's no such thing as waste. Every contact has value in preparing you to talk about your strengths and learn about prospective career opportunities and employers. Who knows – the company president may even be in attendance.
Although we're in a digital era, nothing takes the place of a meaningful human interaction. Too many students have unrealistic expectations about the effectiveness of blasting out resumes to potential employers without considering their game plan – which is so old school! Just because you send out 20 resumes per day, doesn't mean that you're going to land a position you want. In fact, that may not get you anywhere at all.
Developing a game plan for a campus event doesn't have to be difficult – come on, you are the Fighting Irish – you have been taught how to play strategically and act like a champion. To remove barriers to starting your game plan, ask yourself a few important questions:
What do I hope to accomplish at the event?
Who would I like to meet with and why do I want to meet them?
What do I need to know about the companies before I meet with them?
What questions will I want to ask?
What are the take-aways that I want to leave potential employers with?
Asking yourself these questions will help you create a plan for putting that hard-earned degree to use; and developing a solid professional network of people to connect with as you build your career.
To take full advantage of your time at a campus event, use your "Champion Approach." Employers have taken the time to come to your campus for a reason – they want to meet you! With "soft skills' like communications becoming increasingly important in our technological age, the ability to demonstrate your interpersonal skills, combined with a professional demeanor and appearance, you'll stand head and shoulder above your competitors.
Now that you've bought into the value of networking at these campus events – remember it's important to be the real you. Relax and be yourself – networking is about building and maintaining relationships. Remember, it's not a test or even a judgement, it's just an effort to get to know you and establish a connection; because at the end of the day, these employers need you as much as you need us.
Lisa Kochert leads the North America campus talent acquisition team at Avanade. In her role, she leads the strategic direction and delivery of the campus talent acquisition organization across several key functions including sourcing, full life-cycle recruiting, and event management. Lisa has been with Avanade since 2011. The opinions presented above are her own.