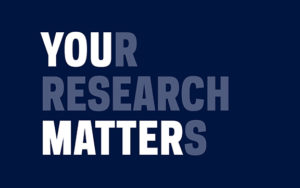 Today's guest blog post was provided by Laura Carlson, Vice President and Associate Provost, Dean of the Graduate School, and Professor of Psychology.
*****************
I want our graduate students to know that Your Research Matters.
This is not a generic slogan.
This is the Graduate School remix of an old Notre Dame classic. Perhaps the Notre Dame classic.
I am referring to Father Sorin's legendary claim that Notre Dame will be a force for good in the world.
Or, as he put it, in a letter to Blessed Basil Moreau on December 5, 1842: "This college will be one of the most powerful means of doing good in this country…"
Father Sorin had just arrived in South Bend when he wrote these words. He was confronting one of South Bend's coldest winters for the first time. He was twenty-eight years old.
I am moved by Father Sorin's words—by their zeal, and by their conviction. They're powerful. And they're consistent with the types of scholars that the Notre Dame Graduate School attracts.
We draw scholars who are different. Scholars who are passionate. Scholars who truly want to be forces for good in the world. And scholars who approach their research with the perspective that their research matters.
Because it does.
For me, this concept captures the essence of what makes graduate training at Notre Dame different. It's what's so unique about being a graduate student in this place.
My job, from an administrative standpoint, is to marshal our resources so that the graduate students can extend their research into the world beyond Notre Dame as effectively as possible.
This includes promoting an outstanding Office of Professional Development, and supporting the four spires our Professional Development office advances: Research, Teaching, Ethics, and Career.
The Career spire is sustained by the Office of Graduate Career Services. In concert with the other three Professional Development spires, this office can serve as a key launchpad from which graduate students introduce their impactful research into the world.
Whether a student is in the internship phase, seeking a career in a top corporation, or pursuing an academic role, Grad Career Services is an indispensable resource.
Consider one of our students who knows this first-hand. Last summer, Yushan Zhang, from the Department of Chemical and Biomolecular Engineering, was one of eight Notre Dame students to complete an internship with IBM Research.
From a lab in Dublin, Ireland, Yushan applied machine learning to forecast wave conditions. Her team ultimately developed a deep learning framework that can predict wave conditions 12,000% faster than current models can—with dramatic reductions in computational expense, and comparable levels of accuracy.
Yushan credits Grad Career Services with helping her score the internship, and make the most of the opportunity once on-site. She utilized the office's 1:1 consultation resource, meeting several times with a highly-specialized Career Consultant to polish her resume and discuss interview preparation strategies.
After landing the internship, she attended a meeting led by the Director of Grad Career Services to gain practical wisdom for professional conduct, networking, and more. "I definitely referred to my handout sheet and notes [from the meeting] multiple times during my internship to refresh my mind and motivate myself," she says.
Yushan's research is a force for good in the world. Her research matters. It will help meteorology professionals provide accurate information, and marine industries maintain safe conditions. Therefore it is important to us that Yushan position her research from a vantage point with reputation and reach.
The Graduate Career Services Office empowers Yushan to do just that.
For information about the other spires of professional development, please visit the Professional Development homepage, or the pages associated with each spire: Research, Teaching, Ethics, and of course, Career.