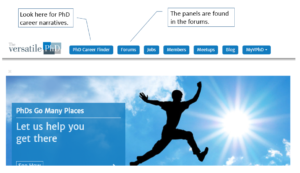 2019 Edit: Notre Dame no longer subscribes to the premium content on VersatilePhD. VPhD still provides free content, but we also encourage you to check out http://www.imaginephd.com for the most up-to-date resource for researching humanities and social science career paths in particular.
ND Graduate Career Services Team
**********************
VersatilePhD provides information to graduate students by identifying careers outside of academia that both utilize and value your professional skill set. There are a few key features to note:
The PhD Career Finder offers information about a wide variety of interesting careers that real PhDs have gone into. Their stories are both fascinating and informative, and are categorized by different career paths. Each one includes a narrative of the PhD graduate's career discernment and job search process, the resume they used to apply for their job, and their academic CV for comparison. Many also include their cover letter, questions they were asked during the interview process, job offer letter, information about the negotiation process if applicable, and more.
From time to time, there have also been panels of PhD professionals. These asynchronous panels featured designated individuals who volunteered to be available in the Humanities/SocialScience forum. They wrote a post introducing themselves and their career path into various fields, and then throughout the week other members of VersatilePhD posted career-related questions in the forum that those designated panelists then answered. Forum posts related to each monthly panel started with the word "Panel:" followed by the topic or question. You can find these previous panel discussions in the archive.
This year, VPhD has been offering structured "Ask-Me-Anything (AMA)" events that were similar to the panels but were a little more targeted toward a specific individual. The previous AMAs are in a separate section of the Forums page. The next event will take place April 17-19, and will feature two well-known figures in graduate student professional development and career advising: Dr. Thi Nguyen from Washington University in St. Louis and Dr. Fatimah Williams from Beyond the Tenure Track.
Overall, the other forums operate in an ongoing way every day as well, to leverage the collective knowledge and experience of all members of the VPhD community. One of the great aspects of VPhD is that it is a more positive and supportive community than many other PhD related forums or wikis, because the alumni have all found successful careers with their PhD and are happy to help current graduate students find success as well.
Visit our website to get started:
https://gradcareers.nd.edu/graduate-students/resources/versatile-phd-humanities-social-sciences/
Has VersatilePhD helped you in your career exploration or job search? Leave a comment below.