Today's guest post was submitted by Trish Bredar, 3rd year English PhD student and grad assistant in Graduate Career Services. The views presented are her own, but we highly support them!
———————
Graduate students are required to constantly negotiate different professional roles. They might act as a student, teacher, researcher, advisee, and mentor, all within a single afternoon. While wearing many hats can be exciting and rewarding, it can also cause confusion and conflict. Kelly Hanson's GradHacker post "Student or Professional? The Paradox of Being a Graduate 'Student'" demonstrates that the way grad students think about their professional or student capacities has major implications for how they conceptualize and organize their responsibilities. The same holds true for our working relationships. In a profession where nearly everyone you work with juggles a variety of professional and personal roles, it can become difficult to set the tone for those relationships.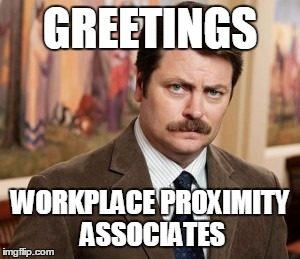 One way to reconcile some of the conflicts between your many roles while also making an investment in your future career is to think in terms of collegiality. On the surface, this may seem like common sense—"obviously the people I work with are my colleagues"—but this simple term can actually entail a significant shift in how you conceptualize and cultivate professional relationships.
So, what makes a good colleague? Maria Shine Stewart's Inside Higher Ed blog post asks this exact question, and offers several potential definitions, identifying key qualities such as encouragement, support, and guidance. All of these definitions imply that a good colleague meets the basics of professional conduct, but also acts according to values such as respect and good will that contribute to positive and productive working relationships. Melissa Ridley Elmes's discussion of collegiality provides some concrete examples of what these practices look like in academic context. While her blog post centers on the academic conference scene, her core points about generosity and good conduct can translate into any professional environment.
So how does this concept of collegiality factor into your career success? For one thing, it can help you to build strong professional connections. We tend to think about networking as a discreet activity centered on making connections in a particular field or industry, but your network is largely made up of the people you work with on a regular basis. This includes not only advisors or senior faculty, but also your fellow graduate students. Your peer relationships will extend far beyond your time as a graduate student. How you interact with them now may leave lasting impressions that can follow you throughout your career.
However, collegiality is about more than just making connections right now—it is also a transferable skill. Just like project management, written communication, or public speaking, being a good colleague is an ability that can help you no matter where your future career may take you. As Karla Zepeda has pointed out, your professional persona and interpersonal skills are two of the post important areas that graduate students should cultivate in order to prepare for your future career search. Being a good colleague requires you to leverage both. Chances are that you already follow many strong practices of collegiality but, as with other skills, it becomes much easier to build and articulate those abilities once you start to be mindful of them.