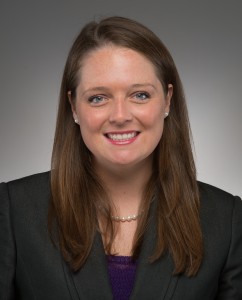 Lauren M. Berenato is currently enrolled in the MS in Patent Law, The University of Notre Dame du Lac, May 2015 (expected graduation date).  Lauren earned her JD from Widener University School of Law, May 2012.  Her law school memberships included the Student Bar Association for the Intellectual Property Society; Richard Herrmann Inn of Court; Women's Law Caucus; Phi Alpha Delta.
Lauren is a member of the Pennsylvania Bar Association. Upon graduation of law school, Lauren worked in bankruptcy law at Shapiro Law Office, P.C.  Her responsibilities included but were not limited to composing transfer requests, reviewing docket entries, reviewing interrogatories, participating in depositions, participating in hearings, and conducting docket entry extractions.
While studying at Widener, Lauren was selected to intern with the Environmental and Natural Resources Law Clinic in the spring of 2012.  During the summer of 2011, Lauren was a law clerk at The Boonswang Law Firm where her duties included composing demand packages including demand letters for personal injury cases.  Interviewing clients with civil claims.  Researching and drafting memorandums on topics including personal injury cases and life insurance case.  During the summer of 2010, Lauren was a legal intern for The Honorable Daniel J. Anders in the Court of Common Pleas of Philadelphia.
Lauren earned her BS in Industrial Engineering with a minor in Engineering Leadership from Lehigh University, May 2009.  Lauren's coursework included Electrical Engineering, Advanced Chemistry, Material Science, Thermodynamics, Robotics, Mechanics, Computer Programming Courses, and Various Information System Analysis Courses. During her senior year she was in the Innovation and Leadership Residency – Lehigh University. The Innovation and Leadership Residency (ILR) provided opportunities to participants in the real-life activities with future business leaders as they prepare to present their innovations and plans to Venture Capitalists.
Lauren is a certified scuba diver, avid tennis player, and enjoys reading for pleasure.
Lauren plans to sit for the patent bar in June 2015.
Lauren can be reached at berenato.2@nd.edu.