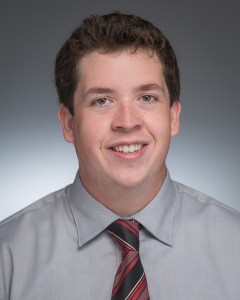 Education
Bachelors of Science in Mechanical Engineering with a Minor in Mathematics, Milwaukee School of Engineering; Milwaukee, Wisconsin
Biographical Information
Roberto Fernandez has over 6 years of industry experience at RollNRack LLC in Mukwonago, WI, where he has worked as a sales engineer each of those years.  RollNRack is a designer and manufacturer of firefighter safety equipment and the leader in fire hose management systems.  Through this position Roberto has gained a real-world understanding of business and honed his interpersonal skills.  In addition, Fernandez has served as the company's lead research and design technician for the past 3 years during which he has designed, marketed, and sold the RollNRack GO-Pack.  The GO-Pack is currently one of the company's flagship products having far exceeded the success of its predecessor.  Fernandez also has experience at a Fortune 500 company, Generac Power Systems, working as a summer intern in the Standards Design team.  As a member of this group, Roberto was responsible for creating and maintaining various documents that included company standards, engineering drawings and part files.  Fernandez showed his abilities by routinely working on project teams with engineering managers and vice presidents on many projects.
As a student at the Milwaukee School of Engineering (MSOE), Roberto gained an industry ready technical background in Mechanical Engineering.  During his time at MSOE, Fernandez was able to participate in undergraduate research that resulted in his publishing an academic paper and plenum presentation at a regional aerospace and aeronautics conference.  The research was focused on cryogenic phase separation of nitrogen in microgravity and was conducted over the course of an entire year.  His research led to his nomination to become an Associate member of the international research society Sigma Xi in September of 2013.  At MSOE, Roberto volunteered with organizations such as Our Next Generation and Junior Achievement as a mentor and tutor.  He also was a founding member of MSOE's American Institute of Aeronautics and Aerospace (AIAA) chapter, where he served as the Chair of Business Relations, and the American Society for Engineering Education (ASEE) chapter, where he served as the Chair of the Graduate Information Committee.  Roberto also participated in the 2013 and 2014 Wisconsin Space Grant Consortium's Annual Rocketry Competition where he led a team of students to a 2014 top 3 finish and an appearance at a regional competition held at the University of Minnesota in April of 2014.  At MSOE, Fernandez was named to the Honor Roll 4 times and was the recipient of the 66'69' Ruehlow Endowment, a Project Lead the Way scholarship and an academic scholarship.  As a recognition of his accomplishments he was selected as the student speaker for the 2012 MSOE Presidential Golf Outing which is the schools main fundraiser.
Currently, Roberto serves as a Digital Media Fellow for the Masters of Science in Patent Law program at the University of Notre Dame.  He is responsible for regularly publishing blog posts that archive his journeys throughout the program and at Notre Dame.  Fernandez's excellent performance in advanced courses offered at MSOE along with his experience designing the RollNRack GO-Pack make him a highly qualified candidate for a position at a growing company looking for a talented and multidimensional team member. Through his work at RollNRack, Roberto also has gained first-hand business, advertising, and leadership experience that has even led him to start the process of developing his own company. His vast sales and business experience tied with his detailed technical knowledge of engineering make him an outstanding candidate for a position in a company that is looking for the complete package in an employee. Not only does Roberto have experience coming up with the best way to solve a problem but he has proven he has tools to sell them in the boardroom and to customers on the show floor.
Publications
Wisconsin Space Grant Consortium (WSGC), 2013: R. J. Fernandez, M. J. Traum, "Nitrogen Phase Separation During Free Fall to Inform Design of Future Microgravity Cryogenic Rankine Power Cycles," Proceedings of the 2013 Wisconsin Space Conference, Milwaukee, Wisconsin, August 15-16, 2013
Roberto can be reached at fernandez.58@nd.edu