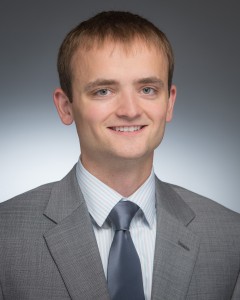 Education
Ph. D. in Chemistry, University of Notre Dame du Lac, December 2015 (expected)
MS in Patent Law, University of Notre Dame du Lac, December 2015 (expected)
BS in Chemistry, Grand Valley State University, May 2011
Biographical Information
Ryan earned his BS in Chemistry from Grand Valley State University.  He is currently pursuing both a Ph. D. in Chemistry and a MS in Patent Law from the University of Notre Dame.  He is a member of Norman Dovichi's research laboratory in the Department of Chemistry and Biochemistry, where he uses capillary electrophoresis with laser-induced fluorescence and mass spectrometry detection.  He is developing instrumentation for the advancement of analytical chemistry as it pertains to biological systems.   While at Notre Dame, Ryan has been the inaugural chair of two committees, the Joint Analytical Sciences Meeting and the Student Selected Speaker committee.
Prior to his graduate studies Ryan received laboratory experience through research during his undergraduate studies and by way of two internships for industrial companies, namely Amway (Ada, MI) and Cayman Chemical Company (Ann Arbor, MI).  Ryan's undergraduate research and internship experiences utilized chromatographic and electrophoretic separation techniques to develop methods for analyzing complex mixtures.
Alongside his scientific studies, Ryan has participated in various community outreach and volunteer opportunities.  His pursuit of a Master's of Science in Patent law includes the unique opportunity to draft a patent pertaining to instrumentation of which he is a co-inventor.
Publications
Negri, P., Flaherty, R. J., Dada, O. O. & Schultz, Z. D. Ultrasensitive online SERS detection of structural isomers separated by capillary zone electrophoresis. Chem. Commun. 50, 2707–10 (2014). [Cover Article]
Huge, B. J., Flaherty, R. J., Dada, O. O. & Dovichi, N. J. Capillary electrophoresis coupled with Automated fraction collection. Talanta 130, 288–293 (2014).
Flaherty, R. J., Huge, B. J., Bruce, S. M., Dada, O. O. & Dovichi, N. J. Nicked-sleeve interface for two-dimensional capillary electrophoresis. Analyst 138, 3621–3625 (2013).
Flaherty, R. J. et al. Cyclodextrins as complexation and extraction agents for pesticides from contaminated soil. Chemosphere 91, 912–920 (2013).
Ryan can be reached at flaherty.30@nd.edu