Last Saturday was one of my favorite days thus far in Tanzania. Another student, Alex, myself, and our teacher, Elly (Eliamini), planned to hike to a popular peak in the Uluguru Mountains called Morningside. We planned to leave around 8:30 and walk to the base of the hike, but as things go didn't head out until closer to 9. One of the delays in a morning was an unwelcome spider that scurried into my room. It sounds a bit silly writing that a spider delayed our departure, but I was quite shocked when this spider that resembled a tarantula, but was far larger than any tarantula—or spider at all—I've ever seen. I'm a bit ashamed to admit that I'm apprehensive when I open my door to exit my room that another will be waiting to enter. I've comforted myself though that it is wholly paranoia because I encountered another far-too-large spider in my bathroom doorway one night. That one I managed to kill on my own though!
Creepy crawly things aside, we began our day walking through the campuses corn fields and taking a side road off the highway to a junction outside of town. From this junction we caught a daladala into town and then walked from town to the base of the hike. I would've been content if that was all we did for the day, getting to see different areas of Morogoro. I enjoyed getting to see homes and little shops along the road, the junction with produce stands, and the nice restaurants and hotels on the road that led to the base. I particularly enjoyed the fields of sunflowers on one side and the mountains on the other. I did underestimate the effects of walking an hour to the base in hot temperatures with no shade, and was a bit more tired than I would have liked to be at the start of the hike.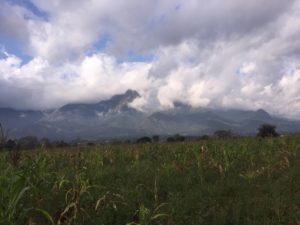 The hike was lovely, but difficult. It was about two and a half hours to the peak where we ate lunch and then climbed about two hours back down to the base. It was beautiful the entire way! We got a range of views outward toward other mountains and the city and surrounding area of Morogoro. It was a clear day and we stopped at a look out where we could see past the Uluguru range to a mountain range in Dodoma too. I think because I only see mountains under special circumstances, I find myself quite happy to be surrounded by them and am constantly taking in the views. This was definitely true on the hike, but also something I get to enjoy each day here. Gazing out and seeing mountains far into the distance has been my favorite view so far, though. The mountains are incredibly green and lush. I'm not sure if it is considered a rainforest, but it looks similar to one with a diverse range of plants, everything bright and in bloom.
After exerting about all the energy I have, we made it to Morningside. There is a rundown house at the peak that was originally a German military site, then passed to British control, and now considered a historical site. We ate lunch here, enjoying the view and the chance to sit down. The way back down was far easier and I had a chance to enjoy the views more, learn a little about the education system in Tanzania, the language school, and see some of the people that lived along the trail farming. There was an area as we headed down on a path different from our hike up that was one of the steepest paths I've encountered. To add to the steepness, it was on an edge and the ground was covered in straw from farming, making it very slippery. Alex and I slowly struggled down this ridge, while Elly jogged down a bit, waited then did it again. This exemplifies the entire hike: it was strenuous for Alex and I, but a casual stroll for Elly. Overall, it was a beautiful day and hike; and I rested well when we returned!