On our eight day we drove from New Delhi to Agra. In Agra, we continued daily class as usual in addition to seeing much of the city. On one of our first nights in Agra we were invited to  an engagement ceremony that took place in our hotel. We also visited famous sites such as the Taj Mahal (first 3 photos) and the Red Fort (last 2 photos) in our free time.
Another night, we witnessed Kathak dance, which is derived from Bharatnatyan dance in the south. Afterwards, over refreshments we spoke with many of the families of the performers who had come to watch and I was able to practice my Hindi. From Agra we drove to Aligarh.
(2 Kathak performers)
On the way we stopped at Mathura, the birthplace of Krishna. In Mathura we tried samosas and a sweet the town is famous for called peda. We then went to the temple where the idol of Krishna is held which is a popular site for religious pilgrimage. Later, in Aligarh, we stopped to have lunch with Professor Taj's sister Shaheda. Shaheda is a mother and also a community activist for the rights of rural people, and works with the government to get them jobs in infrastructure. She said that she often has to fight with the mafia in local villages who try to take the money for themselves. Speaking about more complex topics like politics and community activism in Hindi was more of a challenge for me. I was able to ask her questions when we looked over pictures of her speaking and working in rural communities. I also got the chance to speak with her housemaid when she showed us how to cook roti. Later that day we toured Aligarh Muslim University, where Professor Taj went to college.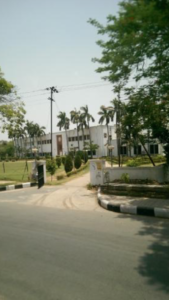 (AMU campus)
On the thirteenth day we drove to Haridwar, an ancient holy city known for Hindu pilgrimage. On the way we spontaneously stopped at a mango orchard where we met a very humble and successful family of Muslim farmers who told us about their business. We ended the day at our ashram, a huge complex that provides food and housing at a low cost for religious pilgrims and travelers.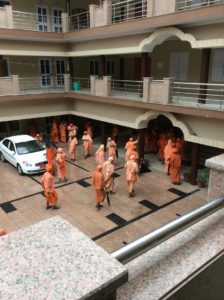 (The ashram feeds hundreds of people every morning, especially holy men called "sadhus" who dress in orange)
The next day we drove to Rishikesh, a beautiful town nested in the mountains. It is famous for it's narrow teetering bridge congested with people, motorcycles, and cows, it's access to the Ganga for Hindu pilgrims, and for the hippies left over from the 70s. There we walked along the cobbled riverside street in groups on a scavenger hunt, using our Hindi skills in stores, ashrams, restaurants and temples to check off the items on our lists.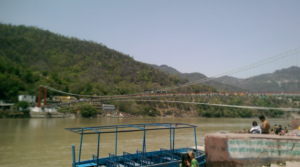 (the Ganga at Rishikesh)
At night back in Haridwar we went to Har Ki Pauri. In Hinduism, the Ganga is the personification of the goddess it takes it's name from. People go to bathe in the water to be cleansed of their sins and to attain eternal life. At the Ganga Aarti ceremony, we sat with tens of thousands of people on the riverbank gathered in prayer, chanting, and clapping in worship of the river. Afterwards, we met and conversed in Hindi with four women and their husbands who were all friends that lived in Haridwar.
SaveSave