Back in Delhi, we spent the week in class and exploring the city by metro. One day we walked to Lodhi garden, a beautiful sprawling public park. We saw dozens upon dozens of young couples and families walking around and picnicking by the creekside, playing on the green grass, and taking pictures by the flowering trees. Within the park there were also runes of the Lodhi dynasty and the tombs of it's rulers. In our hour there, we only saw a small portion of the 90 acre city park. Through the park and down the street we arrived at an arts center with an auditorium where we saw a performance of Odissi dance. Odissi dance originates from eastern India and is one of the oldest surviving traditional forms of dance in India. During the performance we got the chance to hear about the arts and cultural preservation fund based in Delhi that supported the performance.
Sujata Mohapatra, perhaps the most famous Odissi dancer in India, preformed a passage from the Ramayan, the sacred Hindu text. Her dancing was quick, intricate, expressive. Her hands and eyes moved in a way that was lively and captivating as she told the story of Ram and a giant bird seeking to rescue Ram's wife Sita from Ram's enemy Ravana. Perhaps most impressive was how her expressions and body language switched to convey the story of all four characters. Later in the week we visited a family's home on the outskirts of Delhi.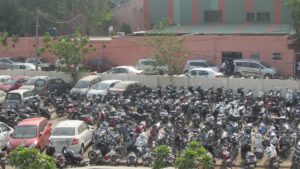 (Motorcycles parked outside our metro stop)
During the week we also went to two well-known markets famous for their handmade work, Dillihat and Janpat, and spoke with local artesans about their work. Another night we went on a mission to see all of Old Delhi. That night we saw the Jama Masjid, tasted Jalebi at a famous street shop, visited a historic Jain temple and bird hospital, and had quorma for dinner at a well known restaurant called Kareem's.
(Photos from the top of the minaret at the Jama Masjid)
(Old Delhi decorated for Ramadan)
One thing that stood out that night was that the narrow streets came to a standstill for around twenty minutes as an endless stream of carts and rickshaws came by carrying people to the mosque for prayer in celebration of Ramadan. The next day we visited Jamia Millia Islamia University and met with the dean, who gave us the story of the University's history as well as it's status as a minority character public school and it's role as a Muslim university.
(Left to right 2 classmates, JMI dean, and professor; JMI campus)
On one of our last days in Delhi we visited the production center for Doordarshan, the state run media group. There we were led on a tour, and got to meet many men and women involved in all levels of production and ask them questions about their work.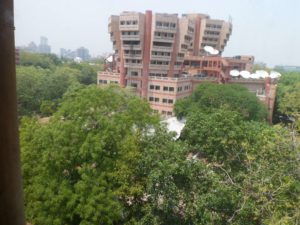 (View of the Doordarshan building from our hostel)
My biggest language challenge this week was when I was talking with some people in Hindi over chai at a street stand. I was trying to ask someone about his studies in engineering, but struggled with vocabulary and sentence structure. I think the worst part though was that my professor was looking over my shoulder which made me anxious about making a mistake, so my biggest challenge with the language right now is to not shut down under pressure.
SaveSave