This is not a quiet week for Munich. The shooting incident on Friday nearby the Olympia shopping center shocked everyone. When it happened, I was just leaving the Carl Duisburg Center and on my way back home with U-Bahn. The spot of incident is not far from the Olympic Park where the 1972 Summer Olympics was held. I played basketball there last Tuesday, and saw the monument in memory of the Munich massacre. The monument is in front of the building in which the tragedy happened 46 year ago: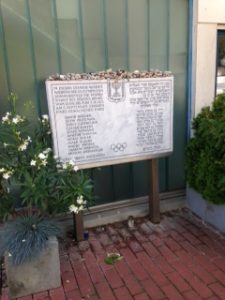 The tragedy on Friday caused great panic in the city. I heard the siren outside the window for hours. But everything has been back to order since Saturday. 
Concerning my study, the past week is quite productive for me. I can feel that I am getting more and more accustomed to speaking German!