The 11 hour train ride from Beijing to Xi'an seemed impossible at first, especially upon learning that we were not going to have wi-fi for the entire ride (and for the entire weekend, for that matter). I thought about all of the snapchat streaks that I would lose, the text messages that I would be late to respond to, and all of the content that I would miss over the span of the weekend. However, I slowly realized that staying unplugged was definitely one of the best parts of the trip. As I looked out the window and watched the scenery transition from forested areas to clusters of buildings, I saw a different part of China, one that truly served as a testament to the enormous scale of this country. I collected images in my head that I would've otherwise missed if I was staring at a screen the entire time.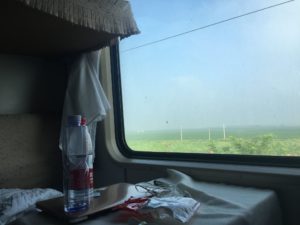 Once we arrived in Xi'an, I instantly fell in love with the city. The food was different from what I was used to in Beijing, and compared to Beijing, Xi'an seemed to have a more calming vibe. Quite casually, our first stop was to see the Terra Cotta Warriors and Horses. Upon entering the massive complex that houses these iconic figures, I was at a loss for words. I had seen pictures and even saw the fake replica at Disneyworld years ago, but seeing the Terra Cotta Warriors in person was simply an unforgettable experience. This was also Ye Laoshi's first time so it was great to share a sense of awe and wonder as we all tried to soak in the reality of, "Wow, this is actually real."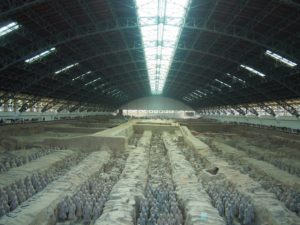 The next day, we biked around the City Wall, but at first, I was terrified because I legitimately thought I forgot how to ride a bike. The last time I rode a bike was when I was seven years old, so when Ye Laoshi pointed at the yellow bikes and said we were going to ride around the entire perimeter of the wall (with all of the bumps and dips), I panicked inside. In my head, I pictured myself biking straight into a wall or falling over. However, I decided to just suck it up and got on my bike. The first few seconds were terrifying and I saw my life flash before my eyes several times, but once I got the hang of it, biking around the perimeter of the City Wall was, by far, one of my favorite experiences in China. It was exhilarating passing by the amazing views of the city and stopping to marvel at the beautiful traditional architecture.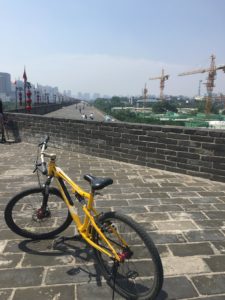 I admit that it is a cheesy comparison but learning how to ride a bike again reminded me of my experiences living and learning in China. The first few days were full of dips and bumps in the road, and it definitely tested my patience. However, once I kept pushing through and celebrating the small wins every day, I began to really enjoy my time here. I am sad that I only have two weeks left in this country, but I want to do my best to make the most of it and learn something new every day.