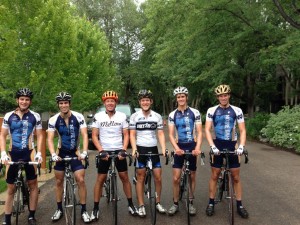 On Saturday, August 3, four members of the Notre Dame Cycling Team (John Pratt, Michael Chifala, Joe Magro, and Jim Snitzer) had the opportunity to ride with Lance Armstrong in Aspen, CO. It all started with a lighthearted tweet from the CyclingIrish twitter page at Lance, asking, "Can we come try to drop you?" Surprisingly, he responded and invited the four of us for a 4-hour ride around Aspen Saturday morning.
The ride started out going downhill from Aspen. After over an hour of easy descending, we knew we were in for a hard next 3 hours. First, he took us up the climb where he did his fitness testing during his training for the Tour. Lance was impressed with how well some of us climbed. Although, we would never drop him, he never managed to drop all of us during any of the day's climbs. Both Joe and John even outsprinted him at county line signs. For the last 30 miles of the ride, Lance took us on the course of stage 1 of the USA Pro Challenge, before heading back to his house. Even at 41 years-old, he was incredibly strong, as we expected from a Tour de France legend. In total, it was an awesome 80-mile ride and we were all thoroughly tired.
While Lance has certainly been a subject of controversy in the last year, he was nothing short of terrific to us. We thank him for inviting us and are proud to call him a friend of Notre Dame Cycling!