Forty-four Notre Dame Graduate Student Teaching Assistants (TAs) have been named as the recipients of the 2014 Outstanding Graduate Student Teaching Award.
Created to recognize graduate student instructors and TAs who demonstrate commitment to exceptional teaching in lectures, seminars, labs, and across the academic profession, the Graduate School and the Kaneb Center for Teaching and Learning present the award annually to TAs that are nominated by their departments.  Departments may only nominate up to 5% of their TAs for the honor.
An awards dinner honoring the recipients took place Wednesday, April 16, in the McKenna Hall Conference Center.  Laura Carlson, dean of the Graduate School, and Kevin Barry, director of the Kaneb Center, presented recipients with their awards following a keynote address by Philippe Collon, associate professor of physics.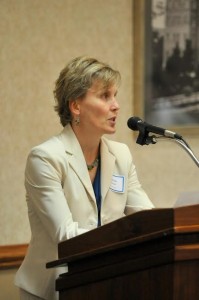 Laura Carlson, Dean of the Graduate School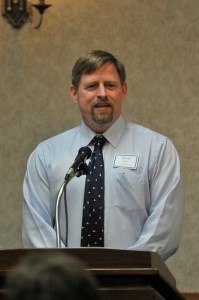 Kevin Barry, Director of the Kaneb Center for Teaching and Learning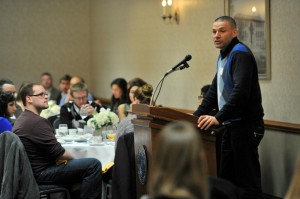 Philippe Collon, Associate Professor of Physics
A full listing of the award recipients follows:
COLLEGE OF ARTS & LETTERS
Art, Art History, & Design
Katelyn Seprish
Classics
Clare Brogan
Creative Writing Program
Jayme Russell
Economics
Robert Lester
History
Rachel Banke
Benjamin Wetzel
International Peace Studies
Kyle Lambelet
Literature
Alexander Erik Larsen
Medieval Literature
Christopher Scheirer
Philosophy
Jeffrey Tolly
Political Science
Michael Hartney
Soul Park
Psychology
Xin Tong
Romance Languages & Literature
James Cotton
Sociology
Ana Velitchkova
Theology
Stephen Gaetano
Justus Gnormley
Brian Hamilton
University Writing Center
Kara Donnelly
University Writing Program
Damian Zurro
COLLEGE OF ENGINEERING
Aerospace & Mechanical Engineering
Tyler Kreipke
Melinda Lake
Gaojin Li
Matthew Meagher
Arman Mirhashemi
Matthew Mosby
Chemical & Biomolecular Engineering
Fernando Garcia
Raymond Seekell
Civil & Environmental Engineering & Earth Sciences
Ryan Alberdi
Tori Tomiczek
Computer Science & Engineering
Paige Rodeghero
Electrical Engineering
Kaijun Feng
COLLEGE OF SCIENCE
Applied & Computational Mathematics & Statistics
Wenzhao Sun
Biological Sciences
Erin Franks
Shayna Sura
Lindsey Turnbull
Chemistry and Biochemistry
Eric Hansen
Jared Lamp
Joseph Michalka
Brandon Tutkowski
Mathematics
Victor Ocasio Gonzalez
Ryan Thompson
Physics
Allison Showalter