Salut!  I can't believe I've already been in Tours for two weeks.  I've been enjoying my stay so much that time has got away from me, so there's a lot to tell about!  I got into Saint-Pierre-des-Corps, a train station in a suburb of Tours, on May 29th.  My host dad was there to pick me up and take me back to the house, where I met my host mom and got settled into my new room.  I'm currently the only student staying with my family, but there is a Japanese woman arriving this evening who will be staying until the beginning of July like me.  
It would be a bit of an exaggeration to say that I was thrown right into the midst of things at l'Institut de Touraine on Monday morning.  I and a lot of other people – including several large groups from American universities – arrived at the beginning of a module, so, contrary to what I expected, the Institut eased us into things with a few presentations and a tour of Old Town.  Classes started that afternoon, and I was very excited to be placed in an advanced class.  It's proving to be a challenge, but I had really been looking forward to pushing myself.
Last weekend, I went on one of the Institut's excursions to Mont Saint-Michel and Saint-Malo.  Coming from a country where 17th century buildings are considered practically ancient, it was breathtaking to see the abbey church – a collage of Romanesque and Gothic styles that was built and rebuilt over the course of hundreds of years, starting in the 11th century.  After seeing the abbey and village, we went to Saint-Malo, a coastal town about 50 km away, for dinner.  The weather, which had been pretty gloomy all day, decided to give us a break that evening when the sun finally came out from behind the clouds.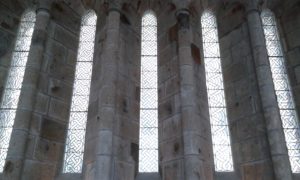 Windows in the refectory at Mont Saint-Michel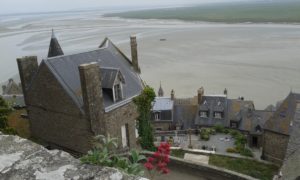 A (somewhat foggy) view of Mont Saint-Michel Bay
The next day, I went to the Musée des Beaux Arts in centre ville.  Although relatively small, it contains works representing a wide variety of eras and styles.  I enjoyed wandering through the exhibits and doing a little bit of writing.  It was exciting to see how much of the placards I understood, but I must admit that my dictionary app did come in handy!
Even though I've only been here for two weeks, I already feel so at home in Tours.  I can't wait to see what other adventures France has in store for me!  A tout à l'heure!