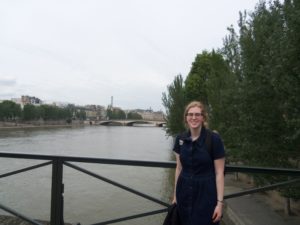 I spent the day in Paris yesterday! The main thing I wanted to see was Notre Dame de Paris, so I was a little disappointed that I didn't get to spend as much time there as I would've liked, but at least I still got to see it. It's absolutely gorgeous, and as I walked around inside the cathedral I really think I could distinctly feel Our Lady's presence. As one of the biggest tributes to Mary, one of the eponyms to my university, and just an all-around stunning location, I think it's officially earned the status of my favorite church in the world. I also saw the Eiffel Tower (I mean, I couldn't just not) and the Musée d'Orsay. Exhausting day, and of course I didn't see everything, but I hit a few major landmarks and really tried to take the time for them.
Other than that, it's been a pretty quiet week, so I don't have much to say about my classes at the Institut de Touraine at the moment. We've been doing a lot of exercises made to resemble this standardized test that a lot of other students are here to take, so that's comprised most of our lessons. I have mixed feelings about them, since I sometimes feel like my level of French is being evaluated solely on how much trouble I'm having on the exercises, when in reality I'd have the same problems with them in English—because the audio recordings are poor quality, the questions are more specific than the excerpt, I can't listen and write at the same time, etc. Because of that, I feel like I'm noticing more improvement in my French skills outside of the classroom. For instance, in the past week I've had to explain the game "Humans versus Zombies," the reasons I think American students have trouble with foreign languages, and the culture of respect in fencing as opposed to other sports, all in French. In all of these instances it's been easier for me to find words to express things, without making the French-speaker I'm talking to even more confused and wishing I hadn't brought it up. I also was trying to translate something for my host mom and couldn't remember the English word, and she said, "Hooray, she's forgetting English!"
Four down, two to go! It doesn't feel like I've been here for a month, but it's been almost exactly that long. I miss home, but I hope I can take advantage of my last two weeks here.