After the end of our seventh week of classes, our class celebrated with a talent show and dinner, our last group activity before the end of the program. We each had different group and individual performances, including dances, skits, games, and songs in Chinese, and this was a fun and entertaining way to end a hard week of classes.
Since it was our final weekend in Beijing, we decided to make it a good one. A few friends and I got up early Saturday morning and headed out to see the Temple of Heaven, one of Beijing's most famous temples and landmarks. The temple was incredible, and not only was it a great display of traditional Chinese architecture, but it was also an interesting glimpse into the spiritual practices of Ancient and modern day China. The temple was also situated in a scenic park, and walking through this made for a good morning. After seeing the temple, the three of us walked to the Pearl Market, another popular destination for tourists in Beijing. The market was full of vendors trying to sell different name brand products—almost all of which were fake, and this was a fun place to practice our Chinese and bargaining skills. After seeing the market, we took a subway to Qianmen, a traditional market center next to Tiananmen Square. While known as one of the best places to shop in Beijing, it is not well known by foreign tourists, and so this market and collection of traditional hutongs (traditional neighborhoods) was a amazing and unique place to get a glimpse of authentic Chinese culture and lifestyle. Recommended to us by our teacher, the market had several shops that were hundreds of years old, as well as many good restaurants. Not only were we able to have one of our last authentic Chinese meals together, but we also got to see many traditional Chinese leisure activities, like groups of men playing Chinese chess and gambling in the streets.This was definitely a place worth going to, and one of the highlights of my time in Beijing.  
The next day—our final completely free day in Beijing—a few friends and I decided to explore another set of hutongs recommended by our teacher, and this market area which just as interesting as the one before. We were able to explore shops and restaurants occupied only by native Chinese people, and we even found a scenic lake where we could relax. This was a good end to our last free day in Beijing.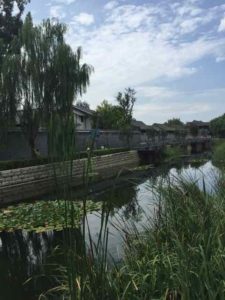 Overall, this weekend was a great way to end a great trip! While we still have one week left of classes, in less than a week we'll be flying back to the U.S. These last two months in Beijing in have been an incredible experience!