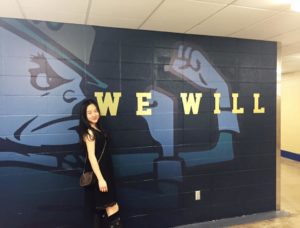 Name: Jiaying "Joy" Qian
E-mail: Jiaying.Qian.10@nd.edu
Language: Portuguese
Location of Study: Rio de Janeiro, Brazil
Program of Study: University of Florida Summer Abroad Program
Sponsors: Center for the Study of Languages and Cultures and Kellogg Institute for International Studies
Blog URL: http://sites.nd.edu/sla2017/author/jiaying-qian-10nd-edu/

A brief personal bio:
I am Joy, a sophomore Business Analytics major with a minor in Portuguese and Brazilian Studies. I am from Nanjing, China's most beautiful and historical city. Interested in international business and development, I spent the past summer working at Guizhou Rural Tourism Development Center in Southwestern China for the Notre Dame International Summer Service Learning Program (ISSLP). Moreover, I serve as the Vice President of Brazil Club and worked as a Chinese tutor at the Center for the Study of Languages and Cultures. In my free time, I also enjoy photography, cooking, Zumba dancing and spending time with my friends.
Why this summer language abroad opportunity is important to me:
Rio de Janeiro is a sophisticated and beautiful city of over six million people. I am so fortunate to be able to go there and experience the dynamics and magnificence of the city and enhance my Portuguese language skills with the support of SLA grant. After taking several Portuguese language and Brazilian culture classes at Notre Dame, as well as watching the Rio Olympics on television, I cannot wait to go there and see for myself – the city with heavenly sunshine and beaches, extreme gap between rich and poor, and the passion of carioca and most importantly, to better learn the musical and vivid language.
What I hope to achieve as a result of this summer study abroad experience:
The SLA grant will help me greatly enhance my Portuguese language skills, and further achieve my long-term goals, which are:
1) continue with my independent research on Brazil's bamboo industry and its potential to enhance Brazil-China relation and sustainable development. My research has been granted by ND's CUSE and the Liu Institute for Asian Studies. Better Portuguese will enable me to better understand interviews with the locals, and to better read the related academic papers written in Portuguese by Brazilian scholars and researchers;
2) be able to take business classes taught in Portuguese at one of Latin America's best business schools – Funda̤̣o Getulio Vargas (FGV) during my junior spring semester abroad in Brazil;
3) pursue a career at a corporation/organization that promotes international business and collaboration.
My specific learning goals for language and intercultural learning this summer:
My expectations are, by the end of this summer, I will be able to:
1) confidently engage in conversations with native Portuguese speakers on a variety of topics from daily life;
2) speak more fluently and learn more authentic Brazilian Portuguese expressions;
3) start reading longer literature than my current coursework.
My plan for maximizing my international language learning experience: