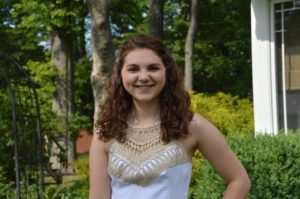 Name: Cassi Anzalone
E-mail: canzalon@nd.edu
Language:  Arabic
Location of Study: Amman, Jordan
Program of Study: Qasid Arabic Institute
Sponsors: Center for the Study of Languages and Cultures
Blog URL:

A brief personal bio:
Hi I am Cassie Anzalone! I am a freshman at the University of Notre Dame studying Arabic and Political Science. I am from Berkeley Heights, New Jersey and live in Lyons Hall. I am the Lyons Hall senator and am involved in a variety of clubs such as Model UN and Compass. I have traveled abroad before but with family and never to the Middle East, so I am very excited to have the opportunity to travel in a different capacity and to the Levant.
Why this summer language abroad opportunity is important to me:
This SLA Grant will allow me to achieve and explore my linguistic goal of becoming a polyglot, fluent in French, Arabic, English and Spanish. My career goals involve revitalization of war-torn areas of the Middle East. I would like to work with NGOs and in think tanks to analyze policy. Ideally I would love to be an ambassador to the Middle East and change the present relationship between the United States and Middle East. My aspirations to work at the UN require fluency in a critical language, therefore fluency in Arabic is essential to my career goals and the SLA Grant would help me reach these goals. Additionally, I intend on attending law school after graduating from Notre Dame to become versed in international law, and I would like to take a gap year and work abroad in the Middle East where I can use both my Arabic and French language skills. Acquisition of both French and Arabic is critical to my success and effectiveness in communicating with Middle Easterners and Middle Eastern governments and this SLA grant allows me to achieve that.
What I hope to achieve as a result of this summer study abroad experience:
This SLA Grant provides me with the opportunity to achieve many intellectual goals. It will hopefully allow me start Arabic III and French I in the fall of my sophomore year and provide me with the chance to achieve fluency in both languages. Most importantly, study in Jordan will provide me with a deep linguistic and cultural immersion in the Ammiya dialect and the lifestyle of Jordanians. Language study in Jordan is culturally rich considering its location in the Levant and in the heart of Middle Eastern tradition. This study abroad experience will grant me insight into the workings and thoughts of Jordanians and I will leave a more culturally aware and well-rounded individual. I will also have the chance to experience Ramadan while in Jordan which will enhance my understanding of various religious practices. Exposure to the Amiya dialect will also improve my fluency and provide me with a deeper basis for study of the Levantine dialect when I return to Notre Dame in the fall. This Grant will allow me to pursue my academic interests while establishing a firm foundation for my language and career goals.
My specific learning goals for language and intercultural learning this summer:
1. At the end of the summer, I will be able to converse with Arabic speakers more fluently on a variety of topics including politics.
2. At the end of the summer, I will have a greater appreciation for the Levantine culture and will be so culturally immersed that I will begin to understand the world from a Middle Eastern perspective.
3. At the end of the summer, I will have the linguistic confidence to converse in the Ammiya dialect.
4. At the end of the summer, I will have a deeper understanding of the mechanics of the Arabic language and will have established a rich foundation in my listening, reading, speaking and writing skills.

My plan for maximizing my international language learning experience: