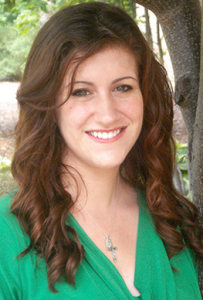 Current Position: Assistant Professor – Newman University, Wichita, Kansas
Jenifer is a graduate student in the lab and a member of the Biological Sciences Department.
She received her B.S in Biology and her B.S. in Chemistry from Saint Joseph's College in Rensselaer, IN. She has previous research experience in with Dr. Mathew Thomas in medicinal chemistry at Ariad Pharmaceuticals and with Dr. Steve DeMarco in biology at Aileron Therapeutics.
Outside of the lab, she enjoys singing in choirs, ballet, playing her flute, reading theology books, and spending time in the Basilica.
Publications
Gifford J and Hill R. GRP78 Influences Chemoresistance and Prognosis in Cancer. Current Drug Targets 2017 Jun Volume: 18 (E-pub Abstract Ahead of Print) DOI: 10.2174/1389450118666170615100918
Gifford J, Huang W, Zeleniak A, Hindoyan A, Wu H, Donahue T, and Hill R. Expression Of GRP78, Master Regulator Of The Unfolded Protein Response, Increases Chemoresistance In Pancreatic Ductal Adenocarcinoma. Molecular Cancer Therapeutics 2016 May;15(5):1043-52. doi: 10.1158/1535-7163.MCT-15-0774. Epub 2016 Mar 3.