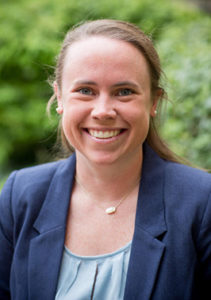 Ann Zeleniak, B.S., M.A.
I am a graduate student in the Integrated Biomedical Sciences program, studying within the Cancer Biology cluster.
I obtained my B.S. in Biochemistry, Cell, & Molecular Biology from the University of Scranton. I then went on to gain a Master's degree in Biochemistry from the University of Scranton. I performed my Master's thesis on how the analytical chemistry technique of laser-induced breakdown spectroscopy can be utilized to quantify elemental deficiencies in fingernails in the lab of Dr. David Rusak.
Publications
Zeleniak A*, Huang W*, Fishel M, and Hill R. PTEN-Dependent Stabilization of MTSS1 Inhibits Metastatic Phenotype in Pancreatic Ductal Adenocarcinoma. Neoplasia. 2017 Nov 22;20(1):12-24. doi: 10.1016/j.neo.2017.10.004.
Zeleniak A, Huang W, Brinkman M, Fishel M, and Hill R. Loss of MTSS1 Results in Increased Metastatic Potential in Pancreatic Cancer. Oncotarget 2017 Mar 7;8(10):16473-16487. doi: 10.18632/oncotarget.14869.
Richards K, Zeleniak A, Fishel M, Wu J, Littlepage L, and Hill R. Cancer-Associated Fibroblast Exosomes Regulate Survival and Proliferation of Pancreatic Cancer Cells. Oncogene 2017 Mar 30;36(13):1770-1778. doi: 10.1038/onc.2016.353. Epub 2016 Sep 26.
Gifford J, Huang W, Zeleniak A, Hindoyan A, Wu H, Donahue T, and Hill R. Expression Of GRP78, Master Regulator Of The Unfolded Protein Response, Increases Chemoresistance In Pancreatic Ductal Adenocarcinoma. Molecular Cancer Therapeutics 2016 May;15(5):1043-52. doi: 10.1158/1535-7163.MCT-15-0774. Epub 2016 Mar 3.