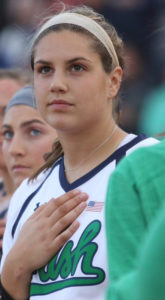 I am rising senior at the University of Notre Dame, studying Science-Business in the College of Science. In my undergraduate career I have discovered particular interests in physiology and cellular biology, and plan to attend medical school or graduate school after completing my undergraduate education.
Additionally, I am a pitcher on the varsity softball team here at Notre Dame, and a member of the Notre Dame Monogram Club.
I also love to travel; I have been to Ireland, Scotland, England, France, Germany and the Netherlands all as a college student.